Camping in the Santa Monica Mountains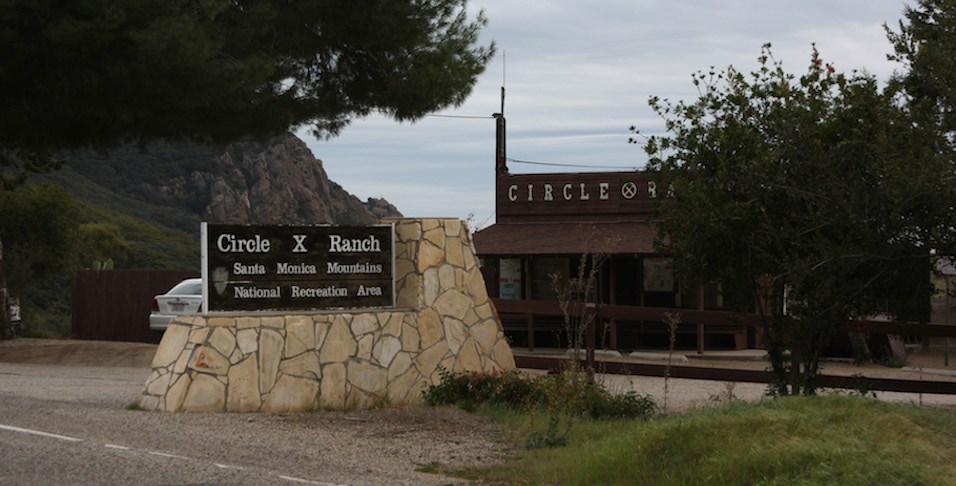 Are you searching for a weekend getaway with mountain overlooks and sunny, sandy beaches? Your vacation destination may be a short drive from Los Angeles, California! Santa Monica Mountains National Recreation Area offers many opportunities to shake off the stresses of city life and immerse yourself in the beauty of nature.
Circle X Ranch Group Campground is the only campground the National Park Service operates in the Santa Monica Mountains. Visit recreation.gov to make reservations for this 10 person minimum group camp.
Other agencies in the mountains offer camping as well. From Topanga State Park to Point Mugu State Park, there are a variety of campgrounds for you to enjoy. Night may find you stargazing deep within a sage-scented canyon, or listening as the waves break against the sandy shore. Savor the peace and solitude on your own, or share the fun of camping with family and friends.
When you go camping in the park, please observe the following safety tips and regulations: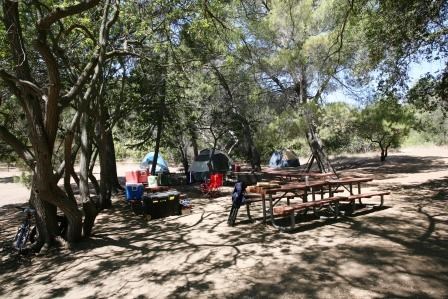 Fires are prohibited at NPS sites. California State Parks may restrict campfires depending on fire danger level and environmental conditions.
Dogs are generally allowed on National Park campgrounds and trails if on a leash (6 feet maximum). At state parks, dogs are permitted only in campgrounds and picnic areas, and on certain beaches where specified.
Natural and historic features (such as flowers, rocks or artifacts) are protected by law and may not be collected or damaged.
Wood gathering or collecting is not allowed.
Bring plenty of food and water. (Water from streams is not safe to drink!)
Learn to recognize and avoid poison oak, rattlesnakes and bees.
Guard yourself against ticks by wearing long sleeves, long pants and light colors.
Dress appropriately for variable weather conditions and be prepared for minor emergencies.
Bring a first aid kit, flashlight and extra clothes.
Take care of your trash. Use disposal facilities on site, or pack out what you pack in.
National Park Service Campgrounds
12896 Yerba Buena Rd, Malibu, CA 90265
Campground
Facilities Available
Reservation Information
Circle X Ranch Group Campground
(10-75 people)

Drinking Water, Pit Toilets, Tent Spaces, Pets permitted on leash.
www.Recreation.gov
or call 1-877-444-6777
10-25 people = $35/night
26-50 people = $75/night
51-75 people = $125/night
+ possible $9 reservation fee
California State Parks Campgrounds
Reserve online at www.reservecalifornia.com or call 800-444-7275. Be sure to have the name of the campground you want to reserve.
35000 W Pacific Coast Hwy, Malibu, CA 90265
| Campground | Facilities Available | Reservation Information |
| --- | --- | --- |
| Hike and Bike | Drinking Water, Flush Toilets, Showers, 4 Tent Spaces, Fire Rings, Pets in campground | First-Come, First-Served basis $10/person |
| Canyon Family | Drinking Water, Flush Toilets, Showers, 135 Tent/RV Spaces, Dump Stations, Fire Rings, Pets in campground | 800-444-7275 $45/night, $60/night for site with electricity |
| Group Walk-In (10-50 people) | Drinking Water, Flush Toilets, Showers, Tent Spaces, Fire Rings, Pets in campground | 800-444-7275 $225/night |
9000 W Pacific Coast Hwy, Malibu, CA 90265
| Campground | Facilities Available | Reservation Information |
| --- | --- | --- |
| Big Sycamore Canyon Hike and Bike | Drinking Water, Flush Toilets, Showers, 4 Tent Spaces, Fire Rings | First-Come, First-Served basis $10/person |
| Big Sycamore Canyon Family Camp | Drinking Water, Flush Toilets, Showers, 58 Tent/RV Spaces, Dump Station, Fire Rings, Pets in campground | 800-444-7275 $45/night |
| Thornhill Broome Family Camp | Chemical Toilets, 68 Tent/RV Spaces, Fire Rings, Pets in campground | 800-444-7275 $35/night |
| La Jolla Valley Hike-In | 3 Tent Spaces, No Water, No Fires | $10/person/night, Auto-pay at the La Jolla/Ray Miller parking area. |
| La Jolla Valley Group Hike-In (10-20 people) | Tent Spaces, No Water, No Fires | $10/person/night, Auto-pay at the La Jolla/Ray Miller parking area. |
| La Jolla Valley Group (10-50 people) | Drinking Water, Flush Toilets, Showers, 1 RV Space, Tent Spaces, Fire Rings, Pets in campground | 800-444-7275 $ 225/night |
| Danielson Group Multi-Use Area (10-50 people) | Drinking Water, Flush Toilets, Showers, Tent Spaces, Fireplace, Pets in campground | Kayla.Lafreniere@parks.ca.gov or 800-444-7275 $100 non-refundable reservation/application fee $150/night |
| Sycamore Group Multi-Use Area (10-25 people) | Drinking Water, Chemical Toilets, Tent Spaces, Fire Rings, Pets in campground | Kayla.Lafreniere@parks.ca.gov or 800-444-7275 $100 non-refundable reservation/application fee $100/night |
1925 Las Virgenes Road, Calabasas, CA 91302
| Campground | Facilities Available | Reservation Information |
| --- | --- | --- |
| Malibu Creek Family Campground | Drinking Water, Flush Toilets, Showers, 62 Tent/RV Spaces, Dump Station, Fire Rings, Pets in campground | 800-444-7275 $45/night, $315/week |
| Malibu Creek Group Camp Walk-In (10-60 people) | Drinking Water, Flush Toilets, Showers, Tent Spaces, Dump Station, Fire Rings, Pets in campground | 800-444-7275 $200/night |
20825 Entrada Rd, Topanga, CA 90290
| Campground | Facilities Available | Reservation Information |
| --- | --- | --- |
| Musch Camp Backcountry Hike-In | Drinking Water, Flush Toilets, 8 Tent Spaces, No Campfires/Smoking, No Pets, No Bicycles, Horses Permitted, Corral Available | First-Come, First-Served basis Self-registration $7/person/night add $10/night parking fee |


Last updated: January 24, 2022