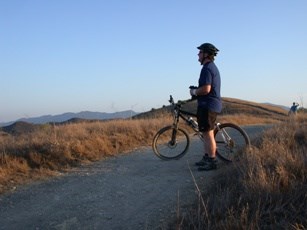 The mountain bike trails traversing the Santa Monica Mountains weave through diverse terrain. From ridgetops to canyon floors, there are many opportunities for a great ride. Challenge yourself with an exhausting ascent that yields rewarding ocean views, or leisurely pedal along an oak-shaded stream. On any trek, always ride safely and responsibly, and with minimal impact to the land.
Download a copy of the Mountain Biking Brochure (PDF).
Click the links above for more information.
Preparation - always know before you go.

• Plan your trip carefully. Prepare to be self-sufficient at all times.
• Know your ability, equipment and the area where you will ride.
• Keep your bicycle in good condition. Carry tools for minor repairs.
• Know local rules and park regulations. Be aware of the bicycle provisions of the California
Vehicle Code.