Hike #5 - Our Geology Rocks
Yeah, our geology rocks! It is a complex mess of ridgelines, faults, fossils, canyons and valleys. It's like the inside of an unsorted washing machine on high speed; a mix of textures and shapes all the while blending in elements of dirt, water, and solvents.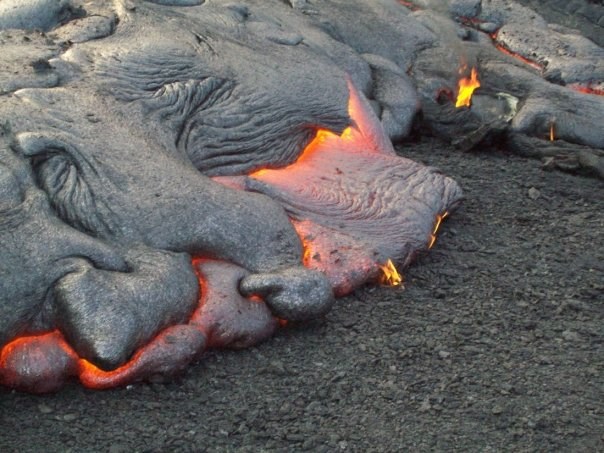 I feel it is necessary to preface this post and tell you that I first started working in the Santa Monica Mountains in 2007 as park ranger / geology intern. Fresh out of college I wasn't really sure what I wanted to do. This was even more of a problem for someone with a degree in geology who didn't want to be a geologist. So taking the advice of my now wife, I took an internship with the park to learn about being a ranger; coming back to the place where I grew up. During the internship, I would develop programs to share our geological story with park visitors; all the while thinking, "how much different could this be from where I studied in Hawai`i - after all, our mountains are volcanic."
Boy was I surprised to learn of the mess I got myself into! One of the first statements I heard when I got here was, "If the science of geology started here, it would have never happened." Great. How am I ever going to learn this place well enough to talk with visitors about it?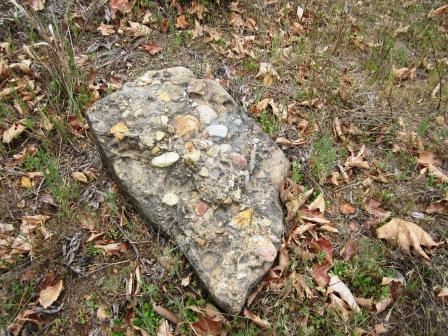 What better way to learn about a place then to explore it.
This section of the Backbone Trail, we focus on the geological story of the park. We see formations that make you tilt your head sideways to understand where they came from. Sediments and fossils on ridgelines miles from the ocean. Views that take your breath away (the climb has something to do with that too I imagine) and evidence of movement ages long in the making.
We started our hike at the Latigo Canyon Trailhead with a climb toward the Castro Crest area of the mountains. Don't let the 1.4 miles to this first junction fool you with its just over 200 feet in elevation - most of it is in the beginning. Going through more chaparral we wonder, how are we going to talk about the rocks? The plants are "in the way".
From there we continue east for 2 miles dropping down into Solstice Canyon. (It must be added that we do not go into the park site known as Solstice Canyon but into the watershed.) Therefore, much like our previous hikes, it's back into another canyon only to climb out of it again when we get to the top of Corral Canyon Road trail junction. Not all is lost though, canyon bottoms make great places to look at "new" rocks made up of "old" rocks to form what we call conglomerates. Just look at all those colors.
At the top of Corral Canyon Road Trailhead there is a unique rock formation. Here you will find spires of rock and dirt turned upward, sideways, and around that add shapes to the mountain's topography as unique to any other place in the park. As one hikes the Backbone Trail, these structures are a definite landmark to look out for and as you can see in the picture to your right, a great place to have lunch and think about how these rocks got here.
Tilting our heads sideways to the left and then to the right, we imagine what it would have been like to live here thousands, tens of thousands, and even millions of years ago. Sitting on these massive sandstone formations, you cannot help be amazed when you find out what we are sitting on is marine in origin - meaning it was formed in the ocean!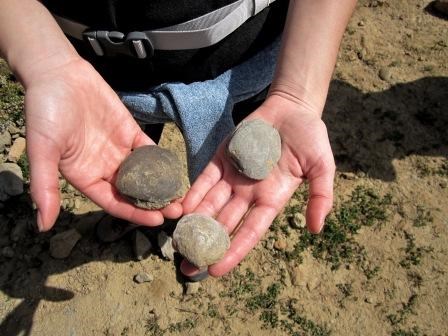 You might ask then, how do we know this is true? Located in certain parts of the mountains, we find fossils, specifically marine fossils like the ones seen here to your left. These bivalves and the surrounding rocks can be dated. Can you believe that these fossils are over 20 million years old! We know species like this are found in the ocean and can even look for other fossils we find in the same rock just to be sure.
"Okay Ranger Mike…you're telling me that marine fossils from the ocean are found along a ridgeline in the mountains. Then how did they get there?"
While we hike from out lunch spot into Malibu Creek State Park along the Mesa Peak Motorway (still the Backbone Trail) for the next 3 miles, we come across a number of faults. Some more obvious than others but none the less, these faults have pushed and shoved the rocks around for millions of years. As section after section of rock was compressed and stressed, something had to give. One side of the fault had to move and sometimes, that way was up.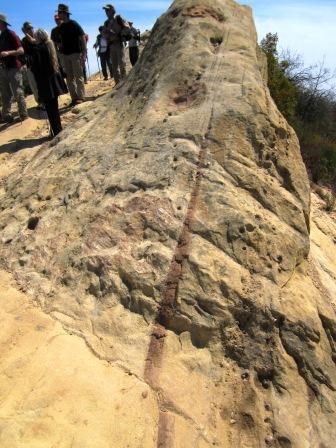 The picture to your right shows an example of a fault we came across while next to our lunch spot. Notice how the maroon stripe (one of the many layers of this rock) is off-set just a little bit. That jagged line between the off-set, that's the fault.
It wasn't until we reach the next junction that our hike, all downhill from here, becomes a little steeper. Hiking poles would be good to use at this point if that's your forte as we descend down over 1,300 feet. You see, in fewer than 2.5 miles we would be at Malibu Canyon Road, the end point of our hike today.
This final leg was the perfect opportunity to think about how complex our mountains really are. There are many mysteries to be solved and even more secrets to discover. Looking across our chaparral covered park, we gain an appreciation for the stories and history beneath our feet.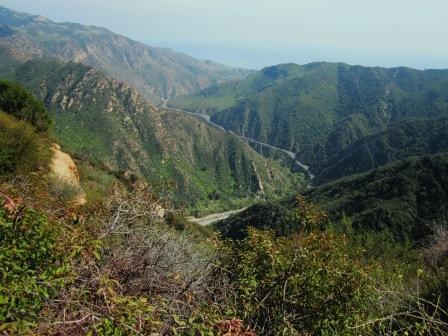 The Backbone Trail connects our parks together along the crest of the mountains.
Now you know what the crest has to say.
-------------------------------------------
Completed mileage so far is: 42.9
To learn more about the sections of trail we hiked, you can visit the information page by clicking the name of the section: Backbone Trail from Latigo Canyon parking area to malibu Canyon parking area
(Click here to return to the 2012 Backbone Trail Blog homepage.)
Last updated: March 1, 2015