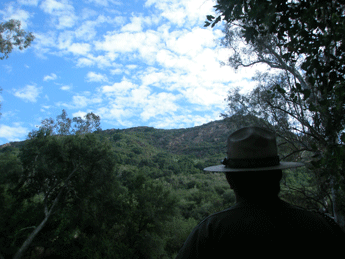 Before this journey starts, I want to begin by thanking you, the visitor. Without your dedication, passion, and commitment to our parklands, none of this would be possible.
It's humbling to think, because you care for our resources and assets so much, I will be able to do something that I have wanted to do my whole life, hike the entire Backbone Trail.
Like some of you, I grew-up in the area around the Santa Monica Mountains. This is the place where I learned what nature is.
Thinking back to my years of hiking, I remember my first overnight backpacking trip. It was here in the Santa Monica Mountains - La Jolla Valley in Point Mugu State Park when I was 11. I absolutely hated the hike - it seemed like it went on forever. The trails lacked shade and the dust just burned my eyes. But for some reason (and with some motivation by my friends and family) I kept going.
When we reached camp that night I was never more relieved. We made our dinner and set-up our tents. I don't remember much else about the trip except for one thing: the stars! Never before had I seen that many stars. It was like someone took a pin and poked a thousand little holes in the black fabric of the sky above.
Thus, without the preservation and protection of that land by a group of adults, I would have never had that park experience as a child, let alone today as a grown adult.
Thank you for allowing me to share my experience with you.
(Click here to return to the 2012 Backbone Trail Blog homepage.)