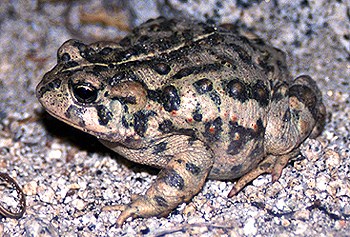 Scientific Name
Anaxyrus boreas (Bufo boreas)
Introduction
The Western toad is a native amphibian species occurring throughout the Santa Monica Mountains National Recreation Area.
Appearance
Western toads are a large and robust toad with dry, warty skin. Adults can vary in length from 2-5 inches (snout to vent) and vary in color from green, tan, reddish brown, dusky gray and yellow. Toads can be distinguished by a white stripe running down the middle of their back. Males generally have smoother skin than females.
Range
Western toads range throughout most of California from the forests to the north to the deserts to the south.
Habitat
The Western toad occupies a wide variety of habitats throughout California, including marshes, springs, creeks, small lakes, meadows, woodlands, forests, and desert riparian areas. In the Santa Monica Mountains and Simi Hills, they are generally found in grassland habitats near riparian streams. Western toads are often found basking on rocks and logs at the edge of water in the spring and early summer, while at other times of the year they are found farther from the water spending much of their time in moist terrestrial habitats. Toads use rodent holes, rock chambers, and root system hollow as refuges from the heat and cold.