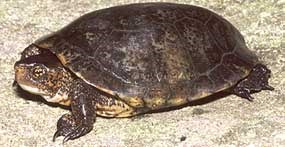 Scientific Name
Actinemys marmorata
Introduction
The Western Pond Turtle is the only native turtle species occurring in the Santa Monica Mountains. Their cryptic nature makes them hard to spot, but they can often be seen sunny themselves on a rock or log. At the approach of a predator, they will dive into the safety of the water.
Appearance
The Western Pond Turtle is a small to medium-sized turtle. Adults can vary in length from 4-9 inches (snout to vent) and vary in color from drab dark brown, olive brown, or blackish turtle. A pattern of lines or spots are often radiating from the centers of the scutes.
Range
The Western Pond Turtle is found along the entire western part of California including the Coast Ranges and the Central Valley, north into Washington and British Columbia and south into northern Baja California.