Habitat Loss and Fragmentation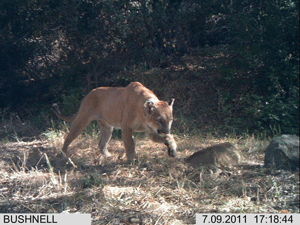 The Santa Monica Mountains are nearly isolated from the other natural areas in Southern California by the surrounding urban and agricultural lands. In addition, ongoing development throughout the mountains is subdividing the remaining landscape. Continued habitat loss and fragmentation threatens the long-term existence of many native species and is one of the greatest threats facing biodiversity protection. Larger mammals, such as mountain lions, bobcats, and badgers, are particularly at risk and may be vulnerable to extinction by chance demographic, environmental, and genetic events in fragmented areas. Conservation biologists recognize that protecting large core habitat areas is the most effective way to counter fragmentation effects. Further, maintaining or re-establishing connections between large areas would help prevent isolation of wildlife populations.
To understand the value of a core area, habitat linkage, or corridor dependent on wildlife for survival, the park engages in research on habitat use and area requirements of selected target species, including the use of corridors and linkages by wildlife. The park also monitors the effects of human activity on wildlife, including the effects of recreation, urban and residential development, habitat fragmentation, and traffic. Target plant and animal species - "vital signs" - have been identified as well for detecting potential changes over time. The knowledge gained from ongoing research and monitoring is used to identify, protect and restore a network of core habitat areas, linkages and corridors at a variety of spatial scales.
Last updated: March 18, 2021