Chaparral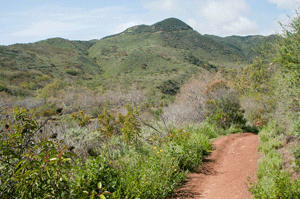 Chaparral, the dominant vegetation community in the Santa Monica Mountains, is characterized by deep-rooted, drought and fire-adapted evergreen shrubs growing on coarse-textured soils with limited water holding capacity. Unlike other plant communities, in chaparral, a nearly impenetrable vegetative wall of stiff stems and leathery leaves is formed by the four- to 12-foot high plants. Underneath, the ground is devoid of herbaceous vegetation, except for an occasional clip of foothill needlegrass (Nassella lepida) or a cluster of wildflowers.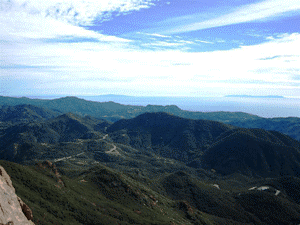 The drought-adapted leaves of chaparral plant species are often small, leathery, thick, fuzzy and/or waxy. Depending on the species, chaparral plants may reproduce after fire either by seeds or stump-sprouting, or both. Various subcommunities are dominated by one or more species.
Mixed chaparral is found throughout the Santa Monica Mountains on moist, north facing slopes. It contains a number of woody vines and large shrubs, including scrub oak (Quercus berberidifolia), greenbark or spiny ceanothus (Ceanothus spinosus), mountain mahogany (Cercocarpus betuloides), toyon (Heteromeles arbutifolia), hollyleaf redberry (Rhamnus ilicifolia), sugarbush (Rhus ovata) and manzanita (Arctostaphylos spp.).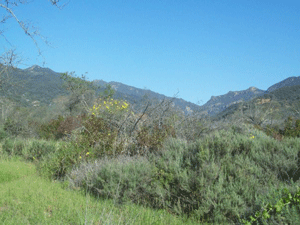 Ceanothus chaparral primarily occurs on stable slopes and on ridges. On some sloped, bigpod ceanothus (Ceanothus megacarpus) makes up over 50 percent of the vegetative cover. In other areas, buckbrush ceanothus (Ceanothus cuneatus), hoary-leaved ceanothus (Ceanothus crassifolius), or greenbark ceanothus may dominate. In addition to ceanothus, the following species may also be present: chamise, black sage (Salvia mellifera), and hollyleaf redberry, among other shrubs.
Last updated: March 1, 2015