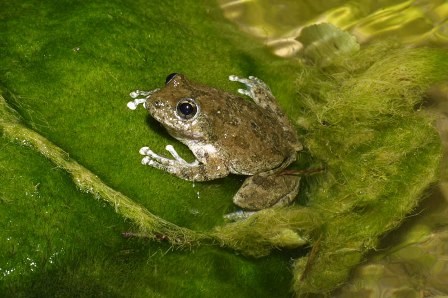 Scientific Name
Pseudacris cadaverina (Hyla cadaverina)
Introduction
The California Treefrog is a native amphibian species occurring in stream habitats throughout the Santa Monica Mountains National Recreation Area.
Appearance
The California Treefrog is a small frog varying in length from1-2 inches (snout to vent). The skin in rough and cryptically colored in gray or brown with dark blotches to match the habitat. The California Treefrog does not have a dark eye stripe like the Baja California Treefrog.
Range
The California Treefrog ranges throughout most of Coastal Southern California from San Luis Obispo county south to and across the Transverse Ranges east to Joshua Tree National Park, and south through the Peninsular Ranges, including the desert slopes, into northern Baja California, Mexico.
Habitat
The California Treefrog are typically found around coastal and canyon streams and rocky washes with permanent quiet pools. In the Santa Monica Mountains and Simi Hills, they can often be found coexisting with the Baja California Treefrog.