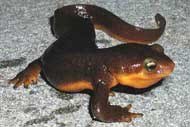 Scientific Name
Taricha torosa
Introduction
The California Newt is the largest native salamander species occurring in the Santa Monica Mountains. Like most amphibians, newts spend part of their life history in the water (winter and spring) and the other part on land (summer and fall).
Appearance
The California Newt is a stocky, medium-sized salamander with rough, grainy skin. Adults can vary in length from 2¾-3½ inches (snout to vent) and vary in color from yellowish-brown, reddish brown and dark brown above, pale yellow to orange below. Adults are toxic. Their skin secretes a potent neurotoxin tetrodoxin, the same toxin found in pufferfishes and harlequin frogs.
Range
The California Newt is an endemic to California. The species ranges throughout the coast and coast range mountains from Mendocino County to San Diego County.
Habitat
In the Santa Monica Mountains, California Newts can be found in oak woodlands, chaparral, and grasslands.