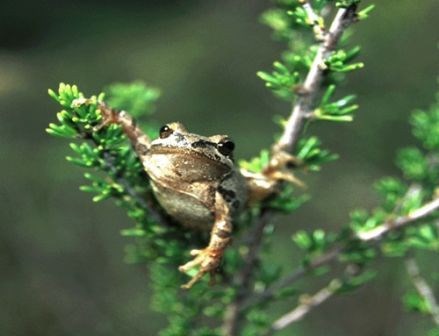 Scientific Name
Pseudacris hypochondriaca (Hyla regilla)
Introduction
The Baja California (formerly Pacific) Treefrog is a native amphibian species commonly occurring in stream habitats throughout the Santa Monica Mountains National Recreation Area. The treefrog is probably the most abundant frog found in California as well as the western United States.
Appearance
The Baja California Treefrog is a small frog with a large head and eyes, and long, slender legs. Adults can vary in length from ¾-2 inches (snout to vent) and vary in color from green, tan, brown, gray, reddish, and cream. Treefrog are often distinguished by their wide, dark eye stripe. Adults also generally have smooth, moist skin.
Range
The Baja California Treefrog ranges throughout most of Southern California from south of Santa Barbara County and the Channel Islands into Nevada and Baja California.
Habitat
The Baja California Treefrog occupies a wide variety of habitats, often far from water outside of the breeding season, including forest, woodland, chaparral, grassland, pastures, desert streams and oases, and urban areas. In the Santa Monica Mountains and Simi Hills, they are generally found in all stream habitats.