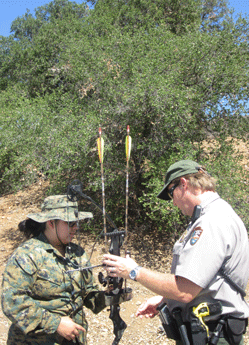 It is the responsibility of visitors to understand and comply with all applicable state, local, and federal firearms laws before entering the park.
As a starting point, please visit California Department of Fish and Wildlife's website.
United States Code of Federal Regulations 36 § 2.2 Wildlife protection prohibits hunting upon federal properties of Santa Monica Mountains National Recreation Area (SAMO). Trapping is also prohibited upon federal properties by 36 CFR § 2.4 Weapons, traps and nets.
Keep in mind that SAMO encompasses parts of Ventura and Los Angeles counties. This places it within the geographic area where lead projectiles are prohibited according to California AB 821 the Ridley-Tree Condor Preservation Act. This is part of the California Fish and Game Code as section 3004.5. The lead prohibition area is also known as deer hunt zones D11 and the South A zone.