2018 Woolsey Fire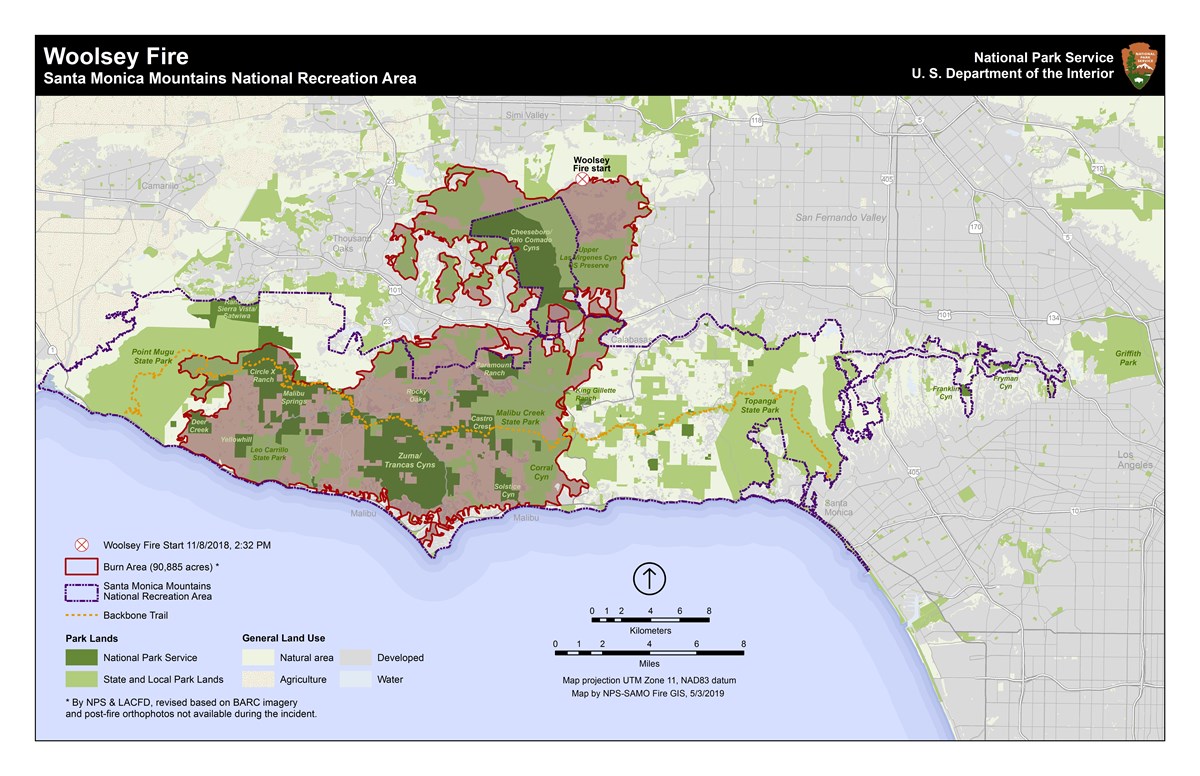 Open and Closed Parks and Trails in Santa Monica Mountains National Recreation Area
NPS continues to reopen sites and trails within the Woolsey Fire area into 2019. Some areas may remain closed for an extended period of time due to safety hazards and to allow revegetation of many sensitive areas. Off-trail use is prohibited except at Circle X Ranch as noted below. Click here to view our trail closures map (revised 7/18/2019).

Open Parks and Trails: (revised 11/20/2020)
• Cheeseboro/Palo Comado Canyons
• Solstice Canyon (open except for Dry Canyon Trail)
• Paramount Ranch
• Zuma/Trancas Canyons
• Circle X Ranch: Off-trail use is allowed only north of Mishe Mokwa Trail and Tri-Peaks Trail, and south of the Grotto Trail.
• Backbone Trail
• Rocky Oaks

Closed Parks and Trails:
• Peter Strauss Ranch
• Arroyo Sequit
• All other NPS lands not listed here are closed to the public, including roads and unauthorized trails on the property.

There are many other land management agencies in the National Recreation Area, such as California State Parks and Mountains Recreation Conservation Authority (MRCA). Please consult with each area for respective closures of their oversight.

The Woolsey Fire Spreads into the Santa Monica Mountains
The destructive Woolsey Fire started on November 8, 2018 near the Santa Susana Field Laboratory above Simi Valley, near the boundary between Los Angeles and Ventura counties. Santa Ana winds pushed the fire in a southerly direction the first day. It then crossed the 101 Freeway between the San Fernando Valley and the Conejo Valley and headed into the Santa Monica Mountains.

Santa Monica Mountains National Recreation Area (SMMNRA) sustained significant damage from the Woolsey Fire. It burned almost 100,000 acres of land. Most of Western Town at Paramount Ranch was destroyed, as well as the 1927 Peter Strauss Ranch house, the Rocky Oaks ranger residence and museum building, and most of the UCLA La Kretz Field Station.
More than 21,000 of the 23,595 National Park Service acres (88%) within the park boundary burned. Our park partners, California State Parks, the Mountains Recreation and Conservation Authority and the Santa Monica Mountains Conservancy, also sustained significant damage. The numbers being used above are Ownership Acres, which is different from Direct Protection Area Acres - the latter which is used to calculate cost.

The Woolsey Fire burned more acres within SMMNRA than any other fire in recorded history. Prior to the Woolsey Fire, the biggest park fire was the 1993 Green Meadows Fire at 38,000 acres. The 1970 Clampitt Fire burned 115,537 acres, but it did not burn nearly as much within the recreation area.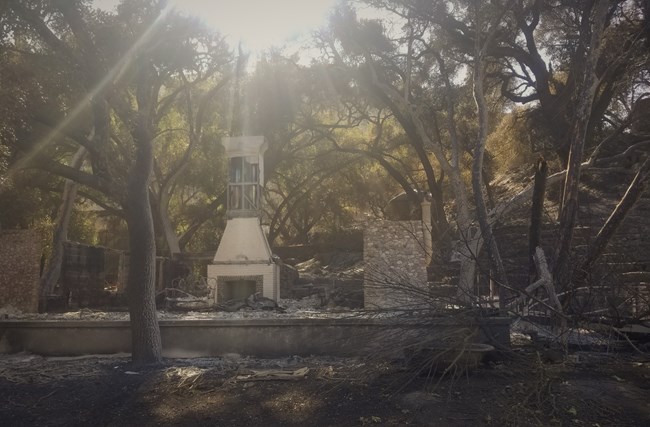 Structural damage within the park:
Most of Western Town at Paramount Ranch and one park residence. This is the only site in the National Park Service that interprets American film history. It is still a working movie ranch that allows the public to see filmmaking in action.

The 1926 Peter Strauss Ranch home/Harry Miller House was significantly damaged. From its history as Lake Enchanto, a precursor to larger amusement parks like Disneyland, Peter Strauss Ranch has gone through many changes over the years. The amphitheater survived the fire and we look forward to continuing to host the Tiny Porch Summer Concert Series at the venue, as well as many other special events.

The government building used to house the joint National Park Service/UCLA La Kretz Research Center (one La Kretz lab building survived the fire)

The Rocky Oaks ranger residence and attached archives building

The Arroyo Sequit ranger residence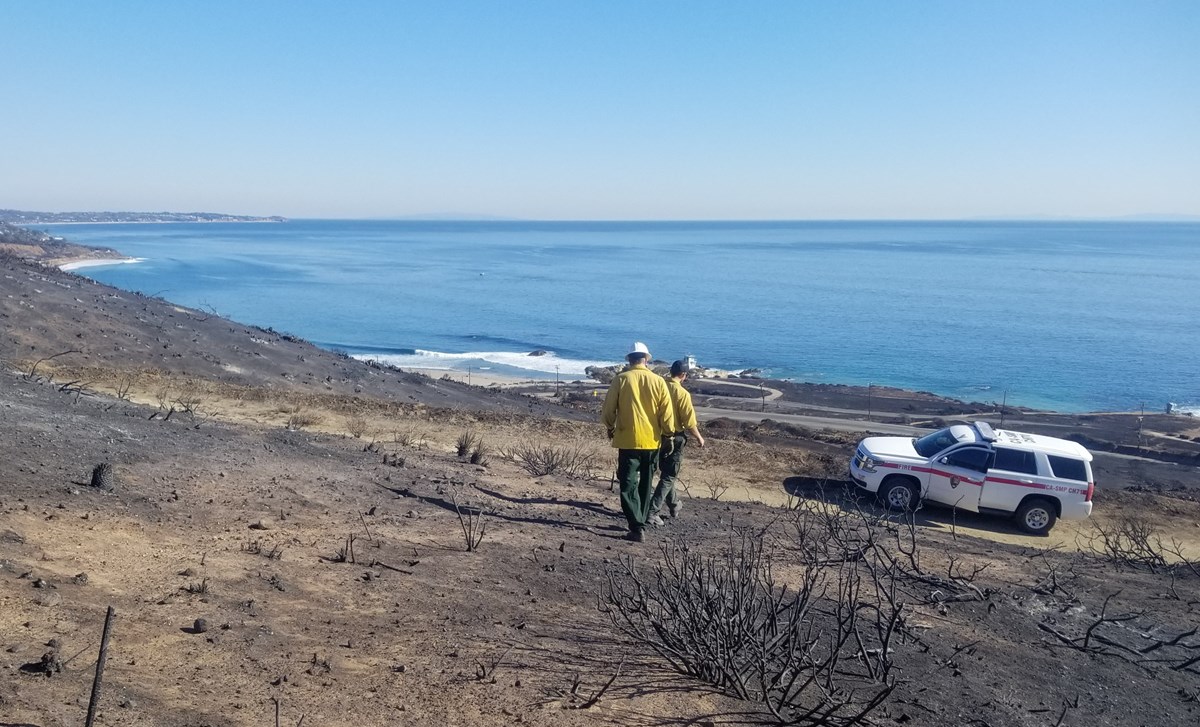 Fire, Ecology and Wildlife in the Santa Monica Mountains
Google Earth layer showing Woolsey Fire perimeter (KMZ file)

Though fire is a natural part of the ecosystem, too much fire can harm plant communities, reduce wildlife habitat, and actually increase future fire risk. Historically, scientists believe that coastal Southern California only had a fire every 100 years or so. Current fires (more than every 20 years) are not natural.

If the landscape burns more than once in a 20-year span, invasive weeds and grasses can establish themselves, making the area even more prone to fire. Invasive weeds and grasses, also known as "flashy fuels," burn quickly and are more susceptible to wind-driven flames.

In general, large animals like deer, coyotes, bobcats, and mountain lions can cover lots of ground and may be able to escape flames. Smaller animals have a much more difficult time. Reptiles and amphibians try to burrow underground.

Though it's too early to say how wildlife in general have fared with this very large and fast-moving fire, we have the following updates on the mountain lions and bobcats we are currently tracking:

Of the 13 mountain lions with working radio-collars in and around the Santa Monica Mountains, we can confirm with GPS locations and movement data that 11 of those mountain lions appear to be alive and moving at this time. Sadly, two of them succumbed to the fire or impacts of the fire.

P-74, a young male, was the latest mountain lion that we captured as part of our mountain lion study. His last GPS point was recorded at 1 p.m. on Friday, November 9, 2018 in a remote area of the Santa Monica Mountains between Yerba Buena Road and Mulholland Highway. This was the same day the Woolsey Fire moved into the central portion of the Santa Monica Mountains. Our biologists also went into the field and searched by foot, but had no luck. We believe that he had not yet dispersed from his mother who was not radio-collared. We discovered from remote cameras in late October that he was still traveling with her. He was captured in the central portion of the Santa Monica Mountains in mid-September 2018.

On December 3, 2018, a biologist discovered the remains of P-64, known as the "Culvert Cat," an approximately four-year-old male mountain lion who survived the Woolsey Fire, but died a few weeks later. His cause of death is not known, but his paws were visibly burned. When the fire first broke out on the afternoon of November 8, 2018, P-64 was in the Simi Hills, north of Oak Park. He continued to travel throughout the Simi Hills for the next few days, covering several miles before then hunkering down in a remote area. Our biologist located P-64 on November 26 with a telemetry device in an unburned portion of the Simi Hills. This boosted hopes that P-64 may have been on a kill and surviving. The last GPS point transmitted by the collar was on November 28, but the collars commonly go multiple days without connecting to the satellites and transmitting points. Our biologist hiked in to the location of the last GPS point and found P-64's remains nearby. He appeared to have been dead for a few days.

Prior to the fire, there were four adult bobcat captures. Their home ranges were burned but they managed to thrive and find the resources they needed to continue surviving. Two of them stayed in the original fire zone and two moved to unburned areas. On March 15, B-361, a male bobcat that had been captured on November 6, 2018 - just two days before the fire, was hit and killed by a car on Las Virgenes Road in Calabasas.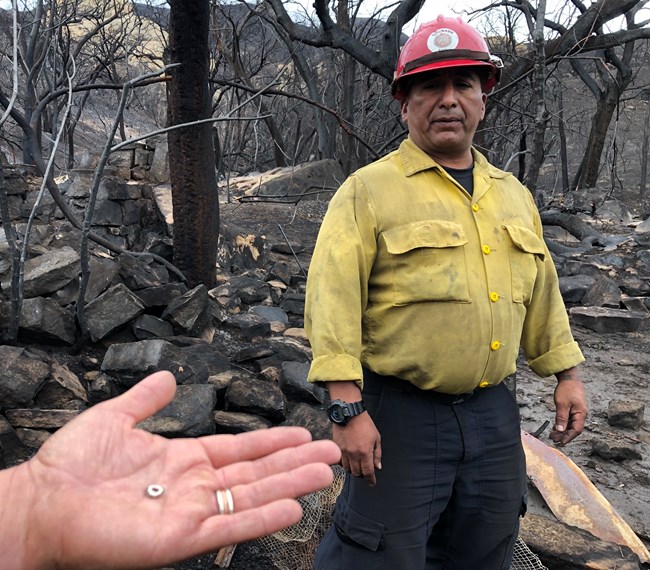 The Chumash Fire Department Helped Protect Cultural Sites
The Chumash Fire Department, based out of the Santa Ynez Reservation and a division of the tribal government that is devoted to fire, emergency medical and disaster preparedness services, was ordered up as a Suppression and Cultural Specialist Resource during the fire.

This fire department is rare as they are one of only a few nationwide that are trained in the preservation of their culture.

The job for these Chumash firefighters was to help fight the fire while protecting prehistoric Chumash cultural sites in the Santa Monica Mountains. When the fire's progression stopped, they worked with equipment operators and their supervisors to coordinate the rehabilitation of the land that was distributed by the suppression efforts. When the fire was put to rest and the Burned Area Emergency Response (BAER) Team was mobillized, they assisted in assessing sites that could be potentially impacted in the future by erosion and debris flow. Read about their work in an
LA Times story
called "In the Ashes, a Search for their Ancestral Past."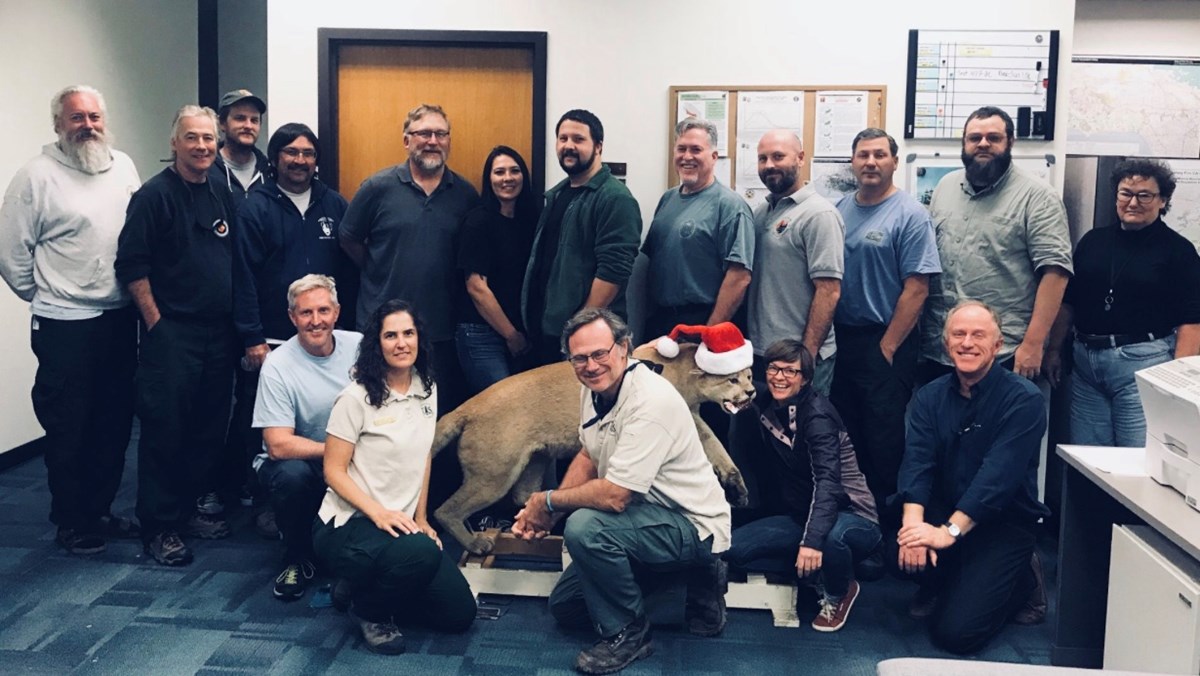 The Burned Area Emergency Response (BAER) Team
A Burned Area Emergency Response Team is called upon when catastrophic wildfires pose a post-fire threat to human life and property and cultural and natural resources. For an incident as large as the Woolsey Fire, a highly coordinated effort is required from an interdisciplinary team, local resource professionals, and fire suppression forces.

Information is compiled into an emergency assessment based upon information from field reconnaissance, satellite imagery, spatial models, relevant literature, management plans, GIS databases, and discussions with stakeholders. Findings from the assessment helps determine whether emergency actions are needed on federal land and identify stabilization treatments to feasibly mitigate post-fire threats to values located within or downstream from the burned area.

BAER efforts aim to minimize threats by prescribing and implementing emergency treatments that reduce the damage to life or property or to stabilize and prevent further unacceptable degradation to natural and cultural resources resulting from the effects of a fire.

Click here to read the "
story map
" of the Woolsey Fire.
Last updated: June 10, 2021