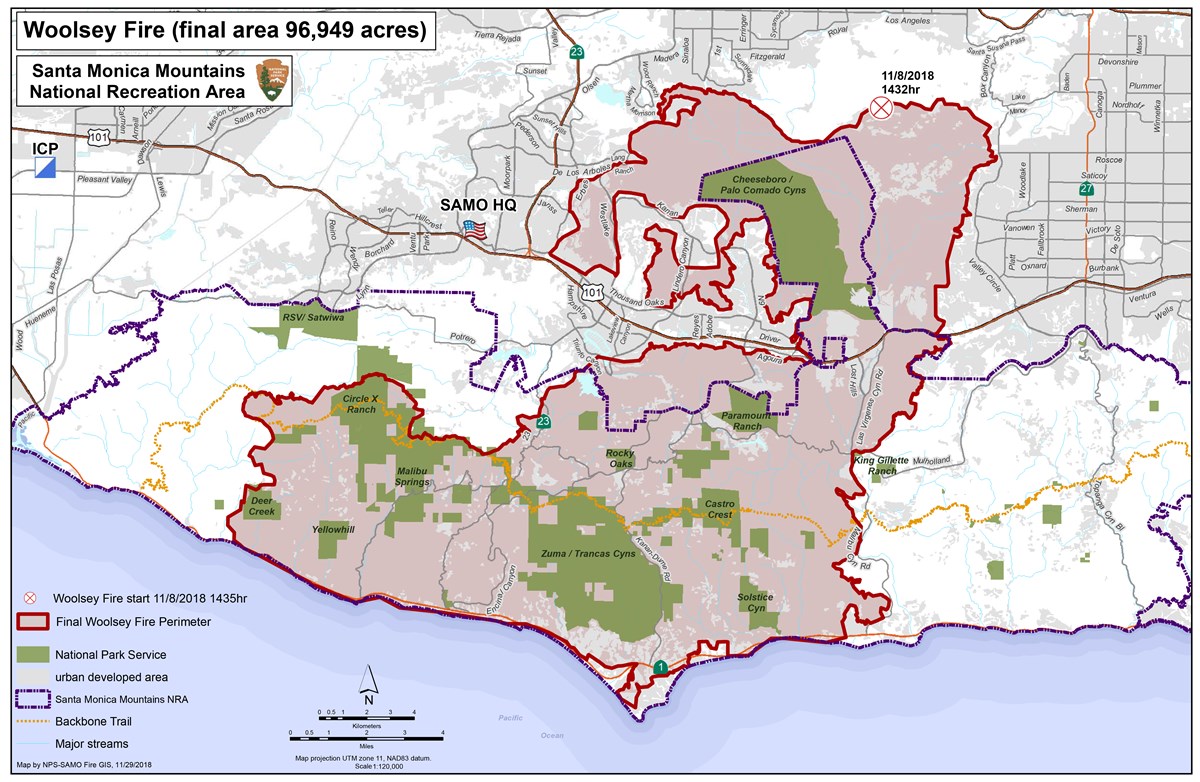 The incredibly destructive Woolsey Fire started on November 8, 2018 near the Santa Susana Field Laboratory above Simi Valley near the boundary between Los Angeles and Ventura counties. Santa Ana winds pushed the fire in a southerly direction the first day. It then crossed the 101 Freeway between the San Fernando Valley and the Conejo Valley and headed into the Santa Monica Mountains.

It will take us time to fully assess the damage and determine the best of course of action to take in the near future. Santa Monica Mountains National Recreation Area sustained significant damage from the Woolsey Fire. It burned almost 100,000 acres of land. Most of Western Town at Paramount Ranch was destroyed, as well as the 1927 Peter Strauss Ranch house, the Rocky Oaks ranger residence and museum building, and a part of the UCLA La Kretz Field Station.

Please note that many areas of Santa Monica Mountains National Recreation Area remain closed due to the destruction caused by the Woolsey Fire. Some areas may remain closed for an extended period of time due to safety hazards and to allow revegetation of many sensitive areas.

Map of closed federal sites within the Santa Monica Mountains National Recreation Area post-Woolsey Fire. (PDF)

The following areas are open:
Paramount Ranch

The Santa Monica Mountains Visitor Center at King Gillette Ranch

Cheeseboro/Palo Comado Canyons

Rancho Sierra Vista/Satwiwa

Sandstone Peak Trail

Franklin Canyon

Fryman Canyon

...and any other unburned areas of the National Recreation Area are open for regular park visitation.
In anticipation of or during inclement weather, some areas may close. There are many other land management agencies in the National Recreation Area, such as California State Parks and Mountains Recreation Conservation Authority (MRCA). Please consult with each area for respective closures of their oversight.

At this point, 21,000 of the 23,595 National Park Service acres (88%) within the park boundary burned. Our park partners, California State Parks, the Mountains Recreation and Conservation Authority and the Santa Monica Mountains Conservancy, also sustained significant damage. The numbers being used above are Ownership Acres, which is different from Direct Protection Area Acres - the latter which is used to calculate cost.

The Woolsey Fire has burned more acres within Santa Monica Mountains National Recreation Area than any other fire in recorded history. Prior to the Woolsey Fire, the biggest park fire was the 1993 Green Meadows Fire at 38,000 acres. The 1970 Clampitt Fire burned 115,537 acres, but it did not burn nearly as much within the recreation area.