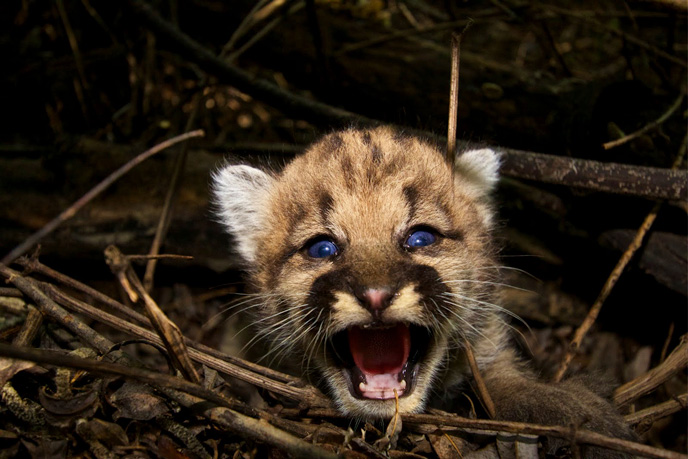 P-44. National Park Service photo.
Our newest research subjects are two spotted mountain lion kittens between the ages of three and four weeks old. P-43 and P-44, as the two are known, are from two separate litters on opposite ends of our study area. 
P-43 is a young female found in a remote area of the Santa Monica Mountains near Malibu Creek State Park. We've been following her mom, P-23, since she was three weeks old and this is her second litter of kittens. P-23 gained fame a few years back when a motorcyclist spotted her early one morning on top of a deer on Mulholland Highway. 
The image below gives you a sense of what these moms are looking for in a den. Many of mom's GPS points are localized in one small area for the first three weeks after she gives birth (which is how researchers know she might have a litter), so our biologist, Jeff Sikich, has a GPS device in hand as he tries to track down the den location. At this point he's typically crawling through thick brush on his knees and sometimes on his belly. As you can see below, this particular den was in an area with steep hillsides and large boulders. After about 45 minutes of searching, Sikich found P-43 underneath thick brush in the hollowed out area below.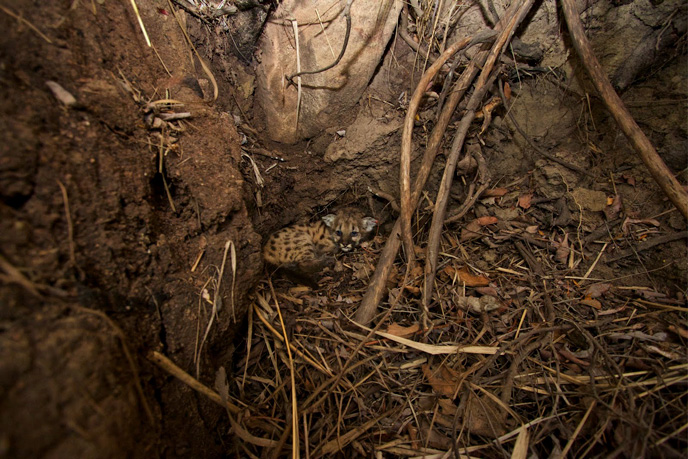 P-43. National Park Service photo.
To minimize disturbance, only one person enters the den and then brings the kitten(s) to a work-up area at least 100 meters away. A small team of biologists then quickly assess the animal's health, take blood and tissue samples, measurements, and mark the kittens in some way, such as with ear tags. 
Wondering where mom is? Biologists go to the den during the day, while she's out hunting or doing whatever moms do when they get a break from the kids! 
Here's a close-up of P-43 before she's taken to the work-up area. P-23's last litter of kittens was fathered by her father, P-12, so it will be interesting to see what the DNA results find in terms of a mate.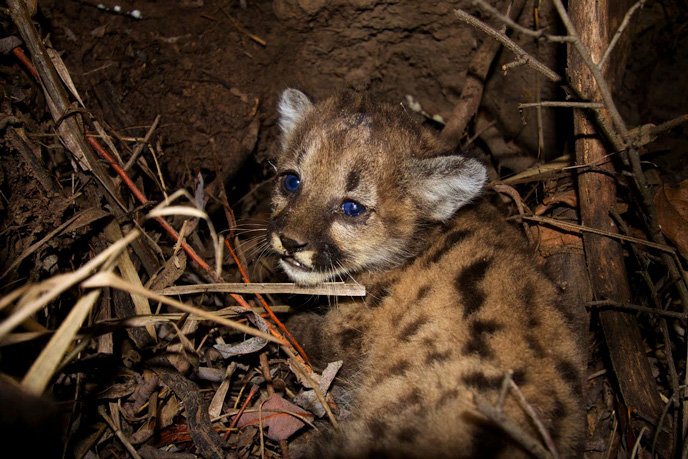 P-43. National Park Service photo.

P-44, also a female, makes her home much farther north, in the Santa Susana Mountains. Her mom is P-35, who was collared in April of 2014. P-35 is estimated to be about five years old and this is at least her second litter (biologists captured remote camera images traveling last year with older kittens).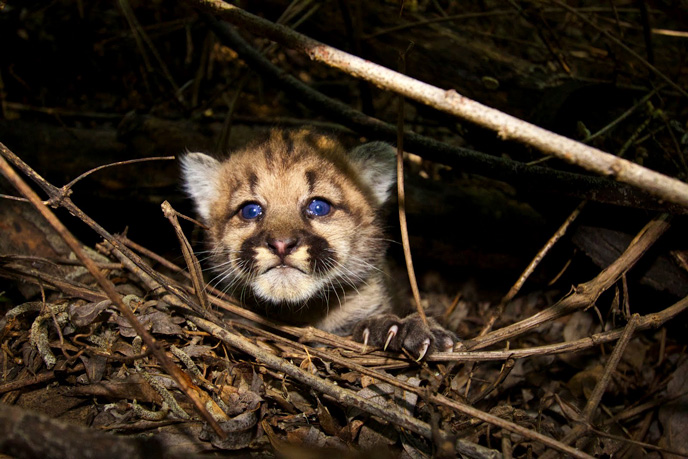 P-44. National Park Service photo.

Although DNA results are still not available, Sikich thinks it is likely that P-38, a large male captured this past March, is the father. GPS data showed they traveled together for a few days three months before the kittens were born. 
"Mountain lions are solitary animals and typically adults only spend time together if they're fighting or mating," said Sikich. "They're both alive and well, so my guess is that P-38 is the father." 
Interestingly, these new research subjects are the only single litters we've documented since we started the study in 2002. These are the seventh and eighth litters we've marked at the den, though that number doesn't include two other litters discovered when the kittens were already at least six months old. 
The other litters ranged in size from two to four kittens.