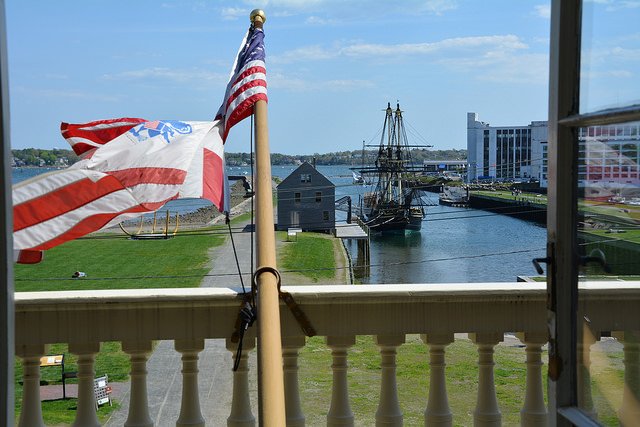 News Release Date:
September 3, 2015
Contact: Jonathan Parker, 978-210-4245
SALEM , MA- This fall the National Park Service will begin three separate projects to enhance the visitor experience along historic Derby and Central Wharves at Salem Maritime National Historic Site. These projects include the launch of a new public program, "Cinema by the Sea," the removal of the non-historic "Rigging Shed" structure and modifications to the interpretive exhibits on Derby Wharf. Work will commence in September and continue through the remainder of the fall season.
"We're excited to begin working on each of these three projects," said Superintendent Paul DePrey. "Salem's historic waterfront is a beautiful waterside location that provides all of our visitors and local residents with opportunities to play, learn and relax outdoors. Our work will improve visitor safety, enhance the sight lines into Salem Harbor and will provide new maritime entertainment opportunities for the public."
On the evening of Saturday, October 3 the park will present a free outdoor showing of the film "Master and Commander: The Far Side of the World" at 7pm on Derby Wharf. The historical drama chronicles the 1805 adventures of the H.M.S Surprise and stars Russell Crowe and Paul Bettany. The film will be projected on the exterior of the historic Pedrick Store House. The park's replica tall-ship, Friendship of Salem, will also be open for special evening hours from 5-6:30pm.
On Wednesday, September 9 the park will begin the demolition and removal of the Rigging Shed, a non-historic structure built in 1997 on Central Wharf. The temporary building was originally constructed by Scarano Boat Building to permit the initial assembly of the rigging for Friendship of Salem. The building lacks a foundation, adequate utilities, fire suppression, reporting alarms and is in poor condition. Ongoing rigging and maintenance work in support of Friendship is currently performed inside the Pedrick Store House.
Later this month the public is invited to submit comments on the proposed removal of select interpretive exhibits along Derby Wharf. These exhibits, installed in 2010, include hands-on activities and vertical panels with historic information. Some of the existing exhibits are either damaged or inoperable. The public can submit comments on the exhibit modification project through the park's Planning, Environment and Public Comment website by visiting https://go.nps.gov/samaplanning. The public comment period opens on Monday, September 15.