Timber Framing Demonstration to Take Place on Derby Wharf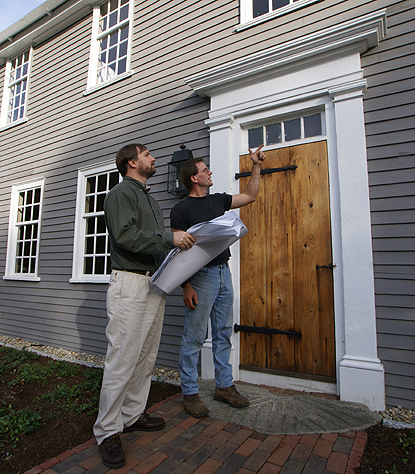 News Release Date:
September 16, 2008
Contact:
Emily Murphy
, 978-740-1691
The National Park Service is pleased to announce that we have been able to reschedule the timber framing demonstration originally scheduled for September 6 and postponed due to weather. In addition to hosting an open house in the 1675 Narbonne House on September 6 from 11:00 am to 3:00 pm, the National Park Service will welcome master carpenter James Whidden and architect Mathew Cummings to Derby Wharf. Cummings and Whidden will demonstrate traditional timber framing techniques at 1:00 and 3:00 pm. In addition to showing some of the ways that posts and beams were joined by colonial carpenters, Cummings and Whidden will talk about the work they have done on some of the most historically significant 17th- and 18th-century houses still standing on the North Shore.
Seventeenth Century Saturdays
This presentation is part of 17th Century Saturdays, an Escapes North program to open the North Shore's 17th century architectural treasures on the first Saturday of the month from June to October. For more information, and a list of participating historic buildings, visit www.escapesnorth.com.
About James Whidden and Mathew Cummings
James Whidden is a master joiner, including timber framing. For over 20 years he has practiced the art of recreating early American woodwork, hoping to preserve a vanishing skill. His woodworking shop is in Ashburnham, Mass., but his projects are primarily on the North Shore including the Day-Dodge House (Ipswich, ca. 1737) and the Captain Sutton House (Ipswich, ca. 1685). Jim serves on the Ashburnham Historic Commission. For more information about Jim Whidden, visit www.jameswhiddenwoodwright.com.
Mathew Cumming has practiced architecture for 23 years. He is the lead architect for Cummings Architects, LLC in Ipswich, Mass. His many historic restoration/renovation projects include the Day-Dodge House (Ipswich, ca. 1737), White Horse Inn (Ipswich, ca. 1658), and Knowlton House(Ipswich, ca. 1725). He is a trustee of the Ipswich Historical Society, and a volunteer for the Boston Society of Architects. For more information about Mathew Cummings, visit www.cummingsarchitects.com.
In 2008, the Ipswich Historical Commission gave the prestigious Mary P. Conley Award for Historic Preservation to the ca. 1737 Day-Dodge House on Ipswich's historically significant High Street. Mat and Jim choreographed the preservation and restoration of the house, and designed new spaces around the existing home to preserve the integrity of the exterior and interior spaces. Also in 2008, they were featured speakers at the Traditional Building Exhibition and Conference at Boston's Hynes Convention Center, and for the Newburyport Preservation Trust's Preservation Week.
About Salem Maritime National Historic Site
Salem Maritime National Historic Site was designated in 1937, the first National Historic Site in the National Park Service system. The nine acre site includes the homes of merchants and mariners, the Salem Custom House in which the famous author Nathaniel Hawthorne worked, and a replica of the three-masted cargo vessel Friendship. Today, the rangers and volunteers of Salem Maritime NHS continue to inform and inspire visitors with the maritime history of New England and the United States. For more information, visit us on the web at www.nps.gov/sama or call 978-740-1650.