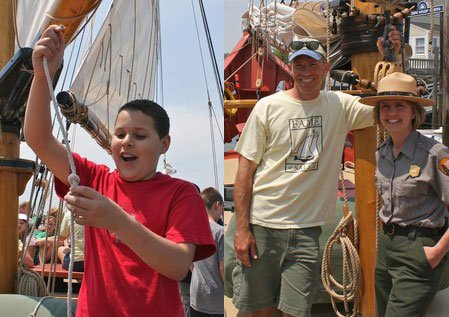 News Release Date:
May 1, 2014
Contact: Jonathan Parker, 978-210-4245
"Are you ready?" the Captain asks the fifth-graders gripping the tiller.
They nod anxiously.
"All right, then: one, two, three…"
"HARD A LEE!" the children yell, pushing the tiller across the deck, and swinging the 70-foot schooner into the wind.
These Salem schoolchildren are enjoying the fourth year of a successful partnership between
Salem Maritime National Historic Site
and
Schooner Fame
benefiting 5th graders in Salem Public Schools. Salem Sets Sail is a collaborative curriculum-based education program that enables a long-standing goal of getting Salem schoolchildren out on the water to become reality.  
"No child in Salem should be allowed to grow up without spending some time on the water," asserts Captain Mike Rutstein, owner and operator of Fame. "Unless we get these kids down to the waterfront, into the Custom House, onto the Friendship of Salem and out on the water on board Fame, how can we expect them to understand what makes their town special? How can we expect them to feel a connection to Salem?"
Aboard Friendship, the tall-ship part of Salem Maritime National Historic Site, students examine authentic sailors' objects and explore the replica merchant vessel. In the Custom House, students inspect trade goods and discover how the history of Salem's early forays into world trade connects to today's increasingly globalized society. Aboard Fame, students learn the ropes and sail in Salem Harbor. Like the Salem mariners of yesterday, students learn to navigate at sea, taking a turn at the tiller and raising sails on the schooner. This hands-on experience not only nurtures the maritime tradition of Salem, but also that of the Caribbean, where many of Salem's immigrant families originate.  
"In today's global society, our young people face an array of challenges and need meaningful learning experiences linked to the cultural and natural world that they are a part of," said Salem Maritime's Education Specialist, Maryann Zujewski. "More than a simple field trip, this program is a true interactive learning experience, fostering a sense of place, a stronger sense of self and a connection to their community's heritage within each student."
The program has become a popular one with teachers and students alike, "The program was fantastic - I am really impressed with what you all have put together," said one fifth grade teacher. And another teacher added, "Everyone is RAVING about the field trip!! I wish you could have seen the faces of the students and teachers upon their return! The children loved it!"
The successful program is made possible by the generosity of an anonymous donor who wants Salem schoolchildren to take part in hands-on education programs emphasizing Salem's history. The funds are administered by the
Essex National Heritage Commission
and the program is also supported through
National Park Service
educational funds.