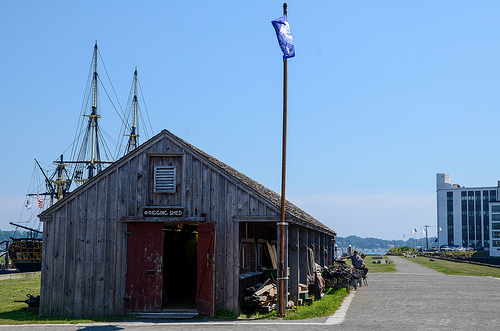 News Release Date:
March 13, 2013
Contact: Jonathan Parker, 978-210-4245
Park to Remove Non-Historic Rigging Shed from Central Wharf
SALEM, MA- The "Rigging Shed," a non-historic wooden structure built in 1997, is scheduled to be demolished and removed from Central Wharf this Spring.The Rigging Shed is a temporary building originally constructed by Scarano Boat Building to permit the assembly of the rigging for Friendship of Salem over 15 years ago.Park staff and volunteers in charge of maintaining Friendship have recently moved their workshop operations from the Rigging Shed into the historic 1770 Pedrick Store House, located on adjacent Derby Wharf.
Scarano designed the Rigging Shed to be disassembled and removed from the site upon completion of the Friendship, but the building was left to the National Park Service in 1998.The building lacks a foundation, adequate utilities, fire suppression, reporting alarms and was not constructed to modern building codes.In addition, the building has been structurally deficient for a number of years and suffers from regular leaks, standing water and rodent damage.
"It is time for the Rigging Shed to be disassembled as originally intended," said Superintendent Michael Quijano-West."The completion of the historic Pedrick's Store House will offer our staff and volunteers a safer, more comfortable, more spacious facility to maintain the Friendship.We cannot maintain a non-historic building like the Rigging Shed when it no longer serves a purpose and competes with nationally-significant historic buildings such as the Custom House, Derby House and Narbonne House for funding and preservation."
Pedrick Store House, located 20 yards from Friendship, is a code-compliant structure with modern LED lighting, improved utilities, green insulation and is protected by a fully-reporting alarm system.The building is 30% larger than the Rigging Shed and features additional storage and improved workspaces.
The park will notify local residents and visitors of the anticipated demolition date/time of the Rigging Shed (later this Spring) on the park website:www.nps.gov/sama/