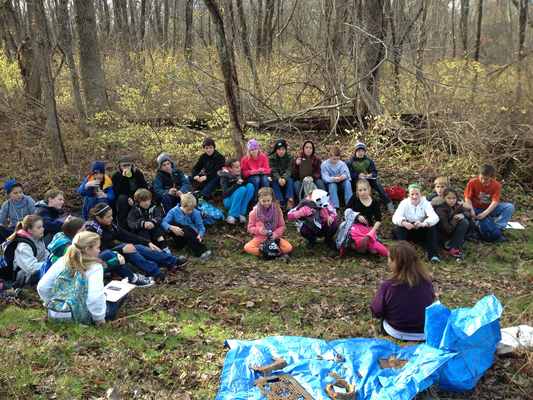 News Release Date:
March 26, 2013
Contact: Jonathan Parker, 978-210-4245
Teachers and Students Turn their Community into an Outdoor Classroom
Dozens of West Newbury students recently turned their schoolyard trail system into a classroom as part of a pilot program of the National Park Service. Sixth graders from the Page School spent several days mapping the area, setting up quadrants, collecting and testing water samples, identifying flora and fauna, and exploring an old cellar hole.The project, "School + Community=Happy Trails," was inspired by a teacher workshop held at Salem Maritime National Historic Site last summer.This workshop taught area teachers how to use their local "place" as a resource to teach concepts and skills across their school curriculum. The program was madepossible by the National Park Foundation, in partnership with the Essex National Heritage Commission.
School + Community=Happy Trails is one of six place-based projects being implemented by teachers at schools throughout Essex County this year including Salem, Haverhill, Boxford and North Andover. "We know that teachers and students who are immersed in the study of "place" are more eager to learn, create partnerships, and become stewards of their local communities and public lands," said Education Specialist Maryann Zujewski. A 2010 study from the Place-based Education Evaluation Collaborative demonstrated that "place-based education fosters students' connection to place and creates vibrant partnerships between schools and communities. It boosts student achievement and improves environmental, social, and economic vitality."

Page School teachers partnered with the West Newbury Open Space Committee and other community organizations in developing the project.The Newburyport News, the local newspaper, reported that the West Newbury Open Space Committee is requesting funding to build a boardwalk and bridge along the trails.The sixth grade teaching team wrote a letter in support of the proposed improvements and the project is moving forward.When asked what she thought about the project and learning outside of the classroom, sixth grader Lia D'Aquila said, "We could be the people that change our whole community.This could be the year people find out about the trails!"
The Park for Every Classroom program in the National Park Service's Northeast Region (NER) is a pilot program modeled on similar program s in Vermont and on the Appalachian Trail.In addition to Salem Maritime, eight additional national parks in the Northeast Region are piloting this program. A Park for Every Classroom aims to build collaboration between park staff, teachers and community partners in creating place-based learning experiences for students.
Contact Education Specialist Maryann Zujewski (978-740-1662) for more information on this innovative teacher development opportunity.