Date:
March 15, 2013
Contact:
Jonathan Parker
, 978-210-4245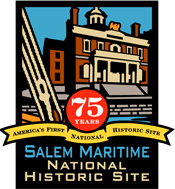 First National Historic Site in U.S. to Celebrate 75th Anniversary on Sunday

SALEM , MA- Celebratory musket fire and cheers will echo off the roofs and wharves of the Salem waterfront as America's first National Historic Site celebrates its 75th anniversary on Sunday.Salem Maritime National Historic Site, one of the country's 398 national parks, will mark the anniversary with an open house event this Sunday, March 17th beginning at 12 noon.
Public speeches, demonstrations, children's activities, commemorative U.S. postage cancelations and birthday cake will all be offered to the public from 12-4PM.Numerous historic park buildings, including the recently renovated Derby House and the park's tall-ship, Friendship of Salem, will be open for visitors to tour and explore.
"We are honored to celebrate our 75th anniversary with the public this Sunday," said Superintendent Michael Quijano-West."It took considerable commitment by the citizens of Salem and this country to establish the site on March 17th, 1938.The successful protection and preservation of this 9-acre park over the last 75 years established an important precedent for historic preservation across the country.Park visitors and local residents alike should gaze upon these historic buildings and wharves with great pride. The early vision and future promise of the park has been realized."
The establishment of Salem Maritime was greatly influenced by the passage of the Historic Sites Act of 1935, the first U.S. law to declare "…that it isa national policy to preserve for public use historic sites, buildings, and objects of national significance..." Salem Maritime is one of the earliest expressions of this new federal policy - and is the first National Historic Site established in the National Park System. Park staff, rangers and volunteers will be recognizing the park's 75th anniversary throughout the remainder of 2013 by hosting numerous special events and programs.
Complete information on this Sunday's activities and a schedule of events is available on the park website:www.nps.gov/sama/