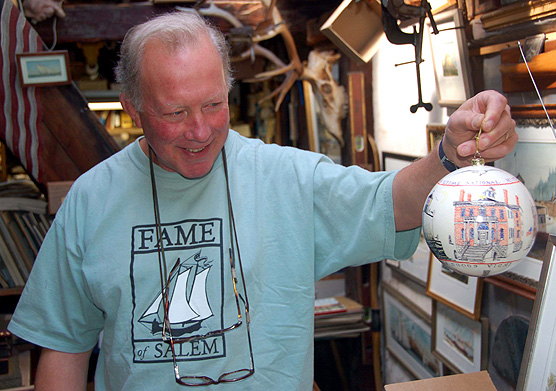 News Release Date:
December 11, 2007
Contact: Emily Murphy, 978-740-1691
(Salem, Mass.) Local artist Racket Shreve was chosen to decorate one of the 347 ornaments that are on display on the official White House Christmas Tree this year as part of the "Holiday in the National Parks" theme for the White House decorations. The ornament depicts scenes from Salem Maritime National Historic Site, including the U. S. Custom House and the replica tall ship Friendship of Salem.  Shreve's work was featured in a front page article in the Salem News. 
 "It is an amazing honor for the National Park Service to be selected as the theme for the White House holiday decorations by the President and Mrs. Bush," said National Park Service Director Mary A. Bomar. "Mrs. Bush is the best champion for our national parks, and the beautiful decorations in each state room showcase the natural and historical treasures found in parks throughout the country."
The holiday displays incorporate the wide variety of natural, cultural, and recreational features preserved by the National Park Service. Models of icons such as the Cape Hatteras Lighthouse and the Statue of Liberty share space with paintings of scenic vistas from Grand Canyon, Zion, and Rocky Mountain National Parks. Holiday garlands intertwined with park objects including seashells, pine cones, and gold aspen leaves add to each room's festive feel.
The official White House Christmas Tree in the Blue Room is adorned with hundreds of handmade ornaments depicting national parks. "Each ornament on the magnificent 18-foot Fraser fir was designed by an artist selected by the park," said Bomar. "The ornaments tell the stories of our parks, just as our parks tell the stories of our nation." More information about the holiday decorations, including images of some of the ornaments, can be found at www.whitehouse.gov/holiday/2007/index.html.
"National Parks commemorate the people, places, and events that define the American experience," said Secretary of the Interior Dirk Kempthorne. "I am so appreciative of President Bush's efforts to recognize the important role of national parks in American society. Our country will celebrate the 100th anniversary of the National Park Service in 2016 and the President has been instrumental in establishing a Centennial Initiative to prepare the parks for the next century."  
Salem Maritime National Historic Site was founded in 1937 to celebrate the rich maritime heritage of New England. For more information on Salem Maritime, please visit our web site, www.nps.gov/sama.