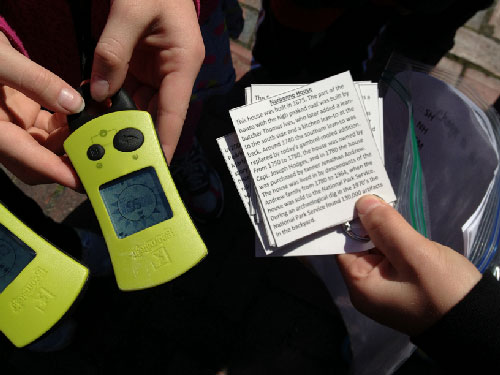 News Release Date:
May 21, 2013
Contact: Jonathan Parker, 978-210-4245
SALEM , MA- Dozens of third graders recently turned Salem and its national park, Salem Maritime National Historic Site, into a dynamic outdoor classroom.Students, teachers and parents from L. D. Batchelder School in North Reading spent several days this school year working with their school's newest technology- handheld Global Positioning System (GPS) devices.Physical education teacher, Beth Weiss, and third grade teacher, Nicole Jackson, created the program to teach students about GPS technology and to convey the many benefits of learning and getting outside.The program culminated in the "Historic Salem Geocaching" trip, a real-world, outdoor treasure hunting game using GPS-enabled devices.
The Salem geocaching project was about discovering and learning about historic locations as they relate to the grade three curriculum rather than finding hidden geocaches. "Students learn the value of looking up from their GPSs to notice their surroundings and problem-solve as teams how to navigate from location to location," said Teacher Beth Weiss."The project is a wonderful avenue for showcasing the student's hometown and Salem Maritime as living classrooms for discovery and learning," explained Ms. Jackson. At the end of their trip, all 80 third graders were sworn in as Junior Park Rangers by National Park Service Rangers and given ranger badges to recognize their participation.
"Teachers and students who are immersed in the study of "place" are more eager to learn and become stewards of their local communities and public lands," said Education Specialist Maryann Zujewski."One of the trends most alarming to future conservation and stewardship efforts is the growth of a youth culture disconnected from their community, nature and the outdoors. Place-based education works to reconnect kids to the natural and cultural world of which they are a part. Teachers and students who are immersed in the study of "place" are more eager to learn and become stewards of their local communities and public lands."  
The project was the product of two education initiatives at Salem Maritime: the Teacher Ranger Teacher (TRT) and the Park for Every Classroom (PEC) program.The National Park Service TRT program is an extended professional development opportunity for educators from K-12 schools enables teachers to work as National Park Rangers for the summer. Last summer, Ms. Jackson spent several weeks at Salem Maritime learning about park resources, engaging with park education projects, and developing lesson plans to use in the classroom.When she returned to school in the fall, she teamed up with Ms. Weiss and received enthusiastic support from school administrators to give the geocaching project a try.
The Park for Every Classroom (PEC) program in the National Park Service is a pilot of an existing program run in Vermont and along the Appalachian Trail. PEC is based on the approach of place-based education. Teachers learn how to use their schoolyard, community, national parks, and other special places as resources to teach concepts across the curriculum.With continued support it is likely that geocaching will continue and possibly expand to other grade levels.Ms. Jackson and Ms. Weiss will return to Salem this summer to share their project and learning experiences with other teachers at the PEC teacher workshop.
Visit https://www.nps.gov/sama/forteachers/development/teacherworkshops.htm or contact Education Specialist Maryann Zujewski (978-740-1662) for more information on these educational programs and teacher development opportunities.