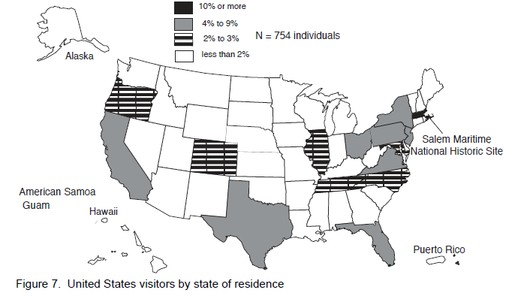 News Release Date:
March 11, 2014
Contact: Jonathan Parker, 978-210-4245
SALEM, M.A. – Today the National Park Service and the University of Idaho released the "Salem Maritime National Historic Site Visitor Study," a 118-page profile of tourism trends and visitors to Salem's National Park site and the city of Salem. The report provides valuable information on visitor preferences and behavior, including but not limited to: demographics, ethnicity, visit duration, itineraries, and various rankings of satisfaction and visit quality.
"This important report is the first comprehensive, park-specific study of our visitors in the site's history," said Superintendent Michael Quijano-West "We now have answers to vital questions about who our visitors are and where they come from, but most importantly, what types of educational and recreational experiences they desire now and into the future. This report gives us the data we need to make well-informed decisions on the future management of the entire park."
The 2013 visitor study profiled a systematic random sample of visitors during July 1–28, 2013. A total of 646 questionnaires were distributed to visitor groups. The University of Idaho's Park Studies Unit coordinated with the National Park Service to produce, distribute and evaluate the results of the study. Select findings from the 118-page report include:
•  United States visitors were from 43 states and Puerto Rico and comprised 89% of total visitation during the survey period, with 23% from Massachusetts. International visitors were from 13 countries and comprised 11% of total visitation during the survey period with 51% from Canada and 18% from the United Kingdom.
•  Thirty percent of visitors were ages 46-60 years, 19% were 31-45 years old, 19% were ages 15 years or younger, and 17% were 61 years or older. Six percent were Hispanic or Latino. Ninety-three percent of visitors were White and four percent were Asian.
•  Most visitor groups (90%) rated the overall quality of facilities, services, and recreational opportunities at Salem Maritime NHS as "very good" or "good."
"There were multiple figures in the report that surprised us – in both positive and negative ways," said Jonathan Parker, Chief of Interpretation, Education and Partnerships for the site. "On the negative side, we're not attracting enough visitors to the park with diverse ethnic, educational and economic backgrounds – we must work to change this fact. The National Parks belong to all the American people – and we want all Americans to feel welcome and enjoy our park. On the positive side, 90% of surveyed visitors rated the overall quality of the park as 'good' or 'very good' and we're proud of that number."
A total of 426,328 visitors experienced the Salem Maritime National Historic Site in 2013, down from 756,038 in 2012. This decline in park visitation is attributed to a variety of factors, including the 2013 federal government shutdown, the 2013 closure of the park Orientation Center, reduced hours of operation and a change in data collection procedures.
The full 2013 Salem Maritime National Historic Site Visitor Study is available to download for free at
https://go.nps.gov/samavsp