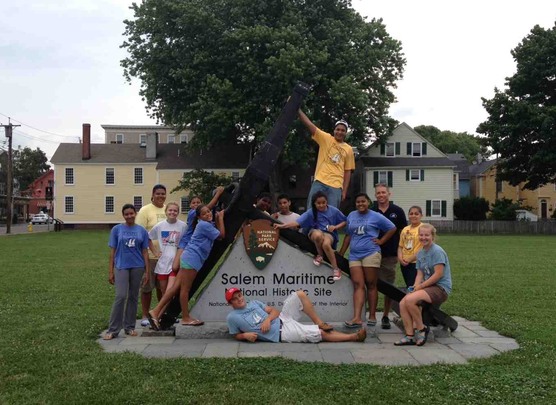 News Release Date:
July 11, 2013
Contact: Jonathan Parker, 978-210-4245
SALEM , MA- The National Park Foundation, the official charity of America's national parks, is proud to award Salem Maritime National Historic Site a 2013 Impact Grant to support the launch of their Salem Schooner Camp education program. This innovative program provides Salem youth with a waterborne experience in Salem Harbor—through a weeklong summer camp aboard the Schooner Fame. This award is part of the National Park Foundation's Impact Grant program which provides parks with the critical financial support needed to transform innovative, yet underfunded ideas into successful in-park programs and initiatives.
"Today's youth face an array of challenges. These hands-on sailing experiences help them to learn more about themselves in order to better navigate life's treacherous waters. Not only that, programs like this keep seafaring traditions alive. It is essential to treasure and nurture those traditions as they are common across a range of cultures, especially in our national parks" said Superintendent Michael Quijano-West. "This project builds on last year's America's Best Idea program, "Making the Caribbean Connection" implemented in partnership with Essex National Heritage Commission, and will allow us to continue the work of strengthening community partnerships, supporting community needs, and empowering the individuals of Salem. We strive to support programs that personally connect our community with their national parks."
During this weeklong summer camp, the campers will embark on a journey similar to that of past mariners—learning the ropes and becoming the crew aboard the Schooner Fame. They will be taught basic seamanship and navigation, how to raise, lower and reef sails, trim sails to the wind, take the tiller on all points of sail, read charts and plot courses, tie essential knots and identify all parts of the vessel. This experience will strengthen their understanding and connection to Salem as they are immersed in and become a part of its maritime culture and history. Salem Maritime National Historic Site currently partners with Schooner Fame, owned and operated by Captain Michael Rutstein.    
"With these strategic grants, we have been able to positively impact hundreds of national parks across the country," said Neil Mulholland, President and CEO of the National Park Foundation. "This unique program helps the parks enhance the visitor experience, engaging more people, and ultimately building a stronger community of park enthusiasts who share an appreciation and commitment to protecting America's Best Idea, their national parks."  
The National Park Foundation, in partnership with ARAMARK through the Yawkey Foundation, The Fernandez Pave the Way Foundation, awarded Impact Grant grants to several national parks across the country.
A full list of grantees is available on the National Park Foundation website.