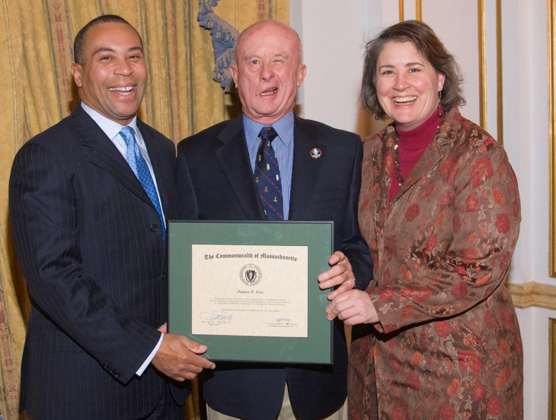 News Release Date:
March 22, 2008
Contact: Emily Murphy, National Park Service, 978-740-1691
Contact: Julie Cook, North of Boston CVB, 978-977-7760 x206
Massachusetts Honors Tourism Industry Standouts
North of Boston Ship Captain Honored at The 21st Annual Governor's Conference
March 19, 2007 – On Friday, Feb. 29, during the 21st Annual Massachusetts Governor's Conference on Travel & Tourism in Boston, MA, Governor Deval Patrick presented 14 awards to Baystaters who have had a positive effect on the tourism industry through outstanding service to visitors.
Among the recipients was Beverly resident James P. Fox, volunteer captain of Friendship of Salem, a 171-foot full-scale replica of a 1797 East Indiaman merchant ship. Managed by the National Park Service, Friendship is open for tours at the historic Derby Wharf as part of the programs of the Salem Maritime National Historic Site. Friendship also travels to other ports within Essex County and Massachusetts.
During a breakfast at the Fairmont Copley Plaza Hotel in Boston, guests watched a video that highlighted the 14 recipients and their individual talents and accomplishments. Each winner was greeted and congratulated by Governor Patrick.
"People travel from all over the world to visit Massachusetts," said Betsy Wall, Executive Director of the Massachusetts Office of Travel + Tourism. "It's the people on the frontlines of our hospitality industry who set the tone for the Commonwealth's reputation, throughout the country and the world. These individuals should be commended for helping this important Massachusetts industry thrive."
According to National Park Service's Patricia Trap, Superintendent of the Salem Maritime Historic Site, the majority of Friendship's sailing crew is comprised of a dedicated group of volunteers. The crew is also responsible for a variety of maintenance and repair items on the ship as well as for fabrication of ship support items. Friendship crew members are also heavily engaged in sail training and providing interpretive programs dockside in Salem and while visiting other ports.
"We are honored for the opportunity to work with Capt. Fox. He has devoted his 'free' time in support of the ship for well over 15 years. He brought her home to Salem in 1998 and has sailed Friendship safely ever since, requiring great skill and expertise, taking the helm as captain of Friendship at events near and far such as Marblehead, Lynn, and Gloucester, and to Portsmouth N.H. He also served as a statesman for the National Park Service and the people of Massachusetts while at the Tall Ships 2007 event held in Newport, RI," said Ms. Trap.
"This past year, Capt. Fox was a remarkable spokesperson and ambassador for Friendship, the City of Salem, and the North of Boston region," said Julie McConchie, Executive Director of the North of Boston Convention & Visitors Bureau, who nominated Capt. Fox for the award. "We laud his dedication in bringing the region's rich maritime history to life and sharing it so broadly."
The Governor's Conference, which was attended by 500 industry professionals, was hosted by the Massachusetts Office of Travel & Tourism.
The Massachusetts Office of Travel & Tourism (MOTT) is the state agency dedicated to promoting Massachusetts as a leisure-travel destination in order to stimulate the Massachusetts economy by generating state and local tax revenues, creating jobs, and supporting the growth of travel-related businesses. MOTT serves as a leader in the tourism industry, bringing together the public and private sectors to promote Massachusetts as a leisure travel destination. Tourism is an integral part of the state's economy, generating more than $887.2 million in state and local taxes and $14.2 billion in travel related expenditures. The industry supports 125,800 in-state jobs.
###