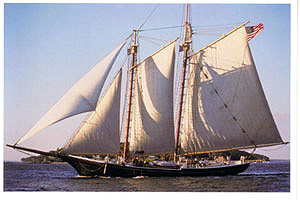 News Release Date:
July 24, 2007
Contact: Michelle Blees, 978-740-1650
The National Park Service welcomes the historic schooner LETTIE G. HOWARD to the 19th Annual Salem Maritime Festival on Aug. 4. The vessel will be open for free boarding from 10 am to 6 pm at Salem Maritime National Historic Site, Derby Street, Salem MA. 
The LETTIE G. HOWARD was built in 1893 in Essex, MA. She is one of the last of the fast schooners that sailed from Gloucester to catch codfish on Georges Bank. Today, the restored vessel hosts sail training voyages out of the South Street Seaport Museum in New York City.
The Salem Maritime Festival will begin with a Caribbean concert at 7 p.m. on Aug. 3. Festivities continue Saturday Aug. 4 with music and exhibits celebrating New England's maritime heritage.
Click here to visit the Maritime Festival Web Page for details about the festival and a schedule of entertainment.