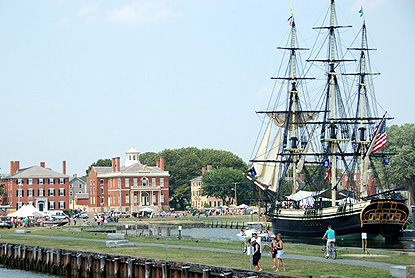 News Release Date:
July 16, 2008
Contact: Michelle Blees, 978-740-1650
Contact: Emily Murphy, 978-740-1691
[Salem, Mass] The 20th Annual Salem Maritime Festival will kick off on historic Derby Wharf at Salem Maritime National Historic Site at 7:00 PM on Friday, August 1, 2008 with a free concert by Entrain, the eclectic Martha's Vineyard-based six-piece band. Entrain will bring their unique combination of rock, blues, calypso, zydeco, jazz and funk to Derby Wharf from 7-9 PM.
The Maritime Festival will present its usual mixture of traditional craft demonstrations, children's activities, and demonstrations aboard the National Park Service's tall ship Friendship on Saturday, August 2, 2008 from 10 AM to 6 PM and from noon to 5 PM on Sunday, August 3. "The music lineup this year is something we are particularly proud of," said Park Ranger Michelle Blees, one of the festival organizers. "We have a great combination of maritime music groups like Atwater & Donnelly and the New Bedford Sea Chantey Chorus that are maintaining traditional forms, as well as groups like Sharks Come Cruisin', who are reinterpreting traditional sea chanteys with a rock sound." Blees also noted that this year the Maritime Festival is showcasing the best local talent along with groups from around New England. "Buddy Walker and his band will be back again this year, playing the traditional Polish music that is so deeply connected to the Derby Street neighborhood. We also have the New Hampshire-based rock, funk, and reggae Casual Labor Band, and a couple of Rhode-Island based artists like maritime singer-songwriter Jon Campbell." 
The Salem Maritime Festival is free and open to the public. It will take place on Derby Wharf at Salem Maritime National Historic Site on Saturday August 2 from 10-6 and Sunday, August 3 from 12-5. Evening concerts will be on Friday, August 1, from 7-9 by Entrain and Saturday, August 2 from 6-9 by the Squeezebox Stompers. For more information and directions to the venue, please visit the Salem Maritime National Historic Site web site at www.nps.gov/sama. The Salem Maritime Festival is made possible by the National Park Service, Salem Five, Peabody Essex Museum ECHO project, Salem State College, and many other generous local donors.
Click here for more information and a music schedule for the 20th annual Salem Maritime Festival