Date:
July 23, 2007
Contact:
Michelle Blees
, 978-740-1652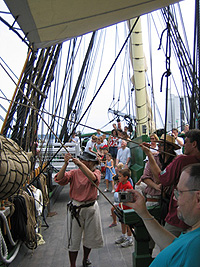 SALEM – The 19th Annual Salem Maritime Festival, kickoff for Salem Heritage Days, starts with a Friday evening concert, Aug. 3 at 7pm and continues Saturday Aug. 4 with activities and music from 10 a.m. to 6pm, at Salem Maritime National Historic Site, Derby Wharf, Derby St. More information is at www.nps.gov/sama or 978-740-1650. All events are free.
The festival is a celebration of New England's maritime heritage. This year's theme: Building History and Community honors Salem's renowned architect Samuel McIntire on the 250th anniversary of his birth and recognizes Salem's history and cultural diversity.
Festivities begin at 7 p.m. on Aug. 3, with a concert by Dell Smart and Exit/in (traditional Caribbean music, reggae, blues and pop).
On Aug. 4, music and events run from 10am through 6pm. Music includes Jim & Maggie Smith Dalton with traditional American and Celtic music, the Johnson State College Alumni Men's Ensemble with ballads and spirituals, Atwater & Donnelly with traditional American folk music, Michael O'Leary & the Stroms with sea chanteys, the Warszawiaki Orchestra with traditional Polish music, Gloucester Horn Pipe and Clog with Celtic music and sea chanteys, and the Squeeze Box Stompers with Cajun, Zydeco, and country blues.
Sailors of all ages will enjoy the Shipwrights Activity Center, horse-drawn wagon rides, and the Rainforest Reptiles education program. Seaside Kites Inc. will provide kites and kite-flying lessons. The National Park Service ship woodcrafters, along with model boat builders, silversmiths, blacksmiths, decoy carvers and sail makers will be among the many artisans demonstrating their crafts. Salem's own tall ship Friendship of Salem will be open for free public boarding, along with the 1893 Essex, MA-built schooner Lettie G. Howard. The chebacco boat Lewis H. Story, the flagship of the Essex Shipbuilding Museum, will also be part of the festival.
Festivities are rain or shine. The event is sponsored by the National Park Service, Eastern National, Salem Five Charitable Foundation, 1805 Custom House Realty Trust, Salem State College, Beverly Co-operative Bank, Captain Dusty's Ice Cream, City of Salem, Clark Bros. Fuel, Crosby's Market, Eastern Bank Charitable Foundation, Essex National Heritage Commission, Hawthorne Cove Marina, North Shore Medical Center, Peabody Essex Museum and the ECHO Project, Salem Chamber of Commerce, Salem Cultural Council, Tache Auctions & Sales, Winter Island Yacht Yard.
Click here to visit the web site for the Maritime Festival, with a schedule and details about the event.