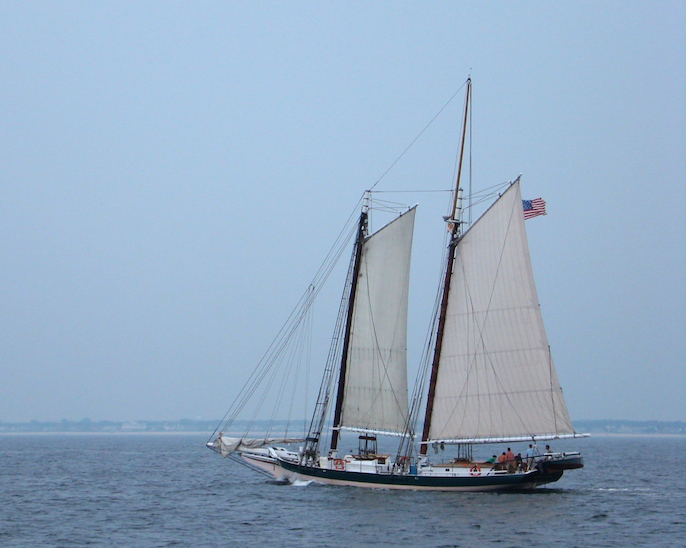 News Release Date:
July 30, 2015
Contact: Jonathan Parker, 978-210-4245
Salem, MA –The 104' gaffe-rigged schooner "Lady Maryland" arrived at Salem Maritime National Historic Site earlier today for an impromptu overnight visit on Central Wharf.The Baltimore-based schooner is the flagship of the Living Classrooms Foundation, a floating classroom providing thousands of students with educational experiences as part of an annual sail transit between Maryland and Massachusetts. Lady Maryland will be open for free public tours on Central Wharf from 4-5pm on July 30th and 10-11am on July 31st.
"We're very happy to welcome the Lady Maryland back to the park for this overnight stay," said Superintendent Paul DePrey. "We received a call earlier this morning and eagerly accepted their request to spend twenty-four hours in Salem. We're pleased to share that she'll be open to the public for free tours both today and tomorrow. "
"This is an exciting opportunity to show our students the history and community of Salem," said Captain Herard of the Lady Maryland. "We spent yesterday evening in Gloucester and will be transiting to New Bedford tomorrow afternoon. Some of our students have already disembarked and are exploring all there is to see in Salem. We're happy to be here."
The Lady Maryland was built in 1986 and is the only pungy schooner in existence in the world today. Pungy schooners originally carried perishable goods throughout the Chesepeake Bay and from Baltimore to Bermuda.
Learn more about the Lady Maryland at https://livingclassrooms.org/lady_maryland_facts.php