Date:
July 17, 2009
Contact:
Emily Murphy
, 978-740-1691
Contact:
Dave Kayser
, 978-740-1690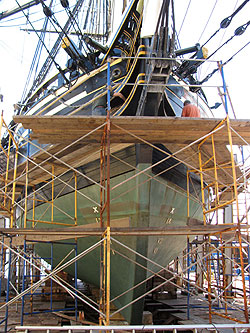 [Salem, Mass.] – Salem Maritime National Historic Site today announced that the tall ship Friendship of Salem will not be at the Salem Maritime Festival, July 31-Aug 1, or making her much-anticipated trip to Newburyport's Yankee Homecoming, August 13-16. "We are very disappointed that Friendship has not been able to sail this summer, as we had planned one of our most exciting sailing seasons so far," said Salem Maritime Superintendent Patricia Trap. "However, ensuring the safety of the ship, her crew, and the visitors we hope to welcome aboard as passengers in the near future is our top priority. We want Friendship to be afloat at Derby Wharf and sailing as an ambassador for the National Park Service, the Essex National Heritage Area, and the City of Salem for years to come."
Friendship traveled up to Boothbay Harbor Shipyard in early June to be hauled out for routine inspection and maintenance. Close inspection discovered rot in the bow of the ship that will necessitate extensive repairs. "Rot prevention and removal is a constant process on a wooden vessel." said National Park Service rigger Jeremy Bumagin, who is the chief mate for the vessel, "and to this end, when the ship is in port you will see our carpenter John Pyndynkowski and our dedicated volunteers replacing weakened wood and making sure that the exposed wood is painted, sealed or oiled to minimize water infiltration. But in this instance, we had more water infiltration than we anticipated."
Repairs are currently anticipated to take another two months, although the final schedule has not yet been determined. It is hoped that Friendship will be back at Derby Wharf in September. For updates on the ship's status, please visit the "Friendship Sailing Schedule" page on Salem Maritime's web site, www.nps.gov/sama.