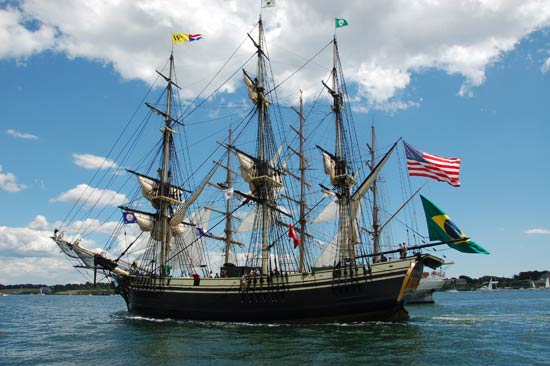 News Release Date:
June 7, 2012
Contact: Jonathan Parker, 978-740-1663
National Park Service to Welcome Friendship of Salem Back Home

SALEM, M.A. - National Park Service Superintendent Michael Quijano-West announced today that Friendship of Salem is sailing home. "It is time to celebrate! Friendship is in the water and if the weather holds, we invite the community to join us Saturday, June 9th at 3pm on historic Derby Wharf to welcome her home. We will be proud and pleased to have her back in Salem."
The public are invited to gather on the wharf as Friendship arrives and greet her with cheers and waving, part of a popular tradition dating back to the 18th-century. "Welcoming the ship into port is both a fitting tribute to her homecoming and a great way to commemorate Salem's rich maritime heritage," stated Quijano-West.
"We plan to depart Fairhaven Massachusetts on Friday June 8th, with an anticipated arrival at 3pm during high tide on Saturday," confirmed the Chief of the Marine Division and Friendship Captain, Jeremy Bumagin. "Inclement weather can delay her departure and subsequent arrival, so we suggest that anyone interested in welcoming Friendship home to check the park's website (www.nps.gov/sama), Facebook page or contact the National Park Service Visitor Center at 978-740-1650 before heading to Derby Wharf."
Friendship has been under repair at Fairhaven Shipyard in Fairhaven, Massachusetts since October 9th, 2011. While in Fairhaven, Friendship underwent a comprehensive marine survey, a U.S. Coast Guard inspection, received a hull cleaning and repainting, new planking, rigging repair, assorted carpentry work and systems maintenance. Friendship will motor into Salem on Saturday with a few unpainted surfaces and unfinished sections of work. This work will be completed during Phase II of Friendship's maintenance plan, currently scheduled to begin later this summer while in port at Derby Wharf. Friendship will be open to the public for tours this summer on a modified schedule during this second phase of work. 
Please note: Although Friendship will arrive on Saturday, the public will not be permitted to board or tour Friendship upon her arrival until Tuesday, June 12th due to a pending U.S. Coast Guard inspection on Monday, June 11th.