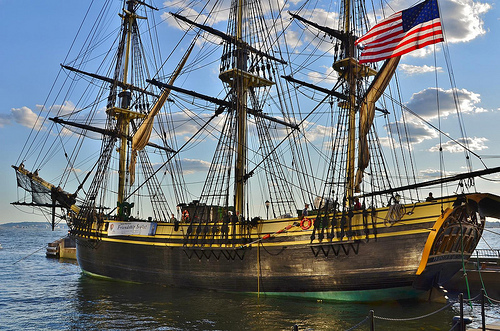 News Release Date:
November 8, 2013
Contact: Jonathan Parker, 978-210-4245
SALEM , MA
- Portions of the forward and middle masts onboard the Friendship of Salem will be removed by a large crane on November 15th, 2013 as part of scheduled maintenance work. The entire length of Derby Wharf and the Friendship will be closed to the public while the work is underway.  Park visitors and local residents will be permitted to observe the lifting operation from adjacent Hatches and Central Wharves. While regularly scheduled park tours will be not visit the Friendship during this period, park staff will be on-site to answer questions about the lifting operations throughout the day.

"During the down-rigging we'll closely examine all the components of the wooden masts and their metal hardware for deterioration and decay," said Friendship Captain Jeremy Bumagin. "It is important to identify potential weaknesses in each mast to ensure the stability of entire rig – whether we're sailing underway or moored at Derby Wharf during periods of bad weather with high winds.   We'll correct any problems we find and re-rig the vessel over the next few years." 
This month's work is the beginning of a two-year "down-rigging" period in which the ship's mast, spars and rigging will be systematically removed for inspection, repair and/or replacement through 2015. The removal of various components of Friendship's rig will significantly alter her appearance during this period of time. The upper section of the 36-foot, 1-ton fore and main topgallant/royal masts will be the first components  to be removed next week.
In the event of inclement weather on November 15ththe park will reschedule the operation for November 18-19th, 2013.