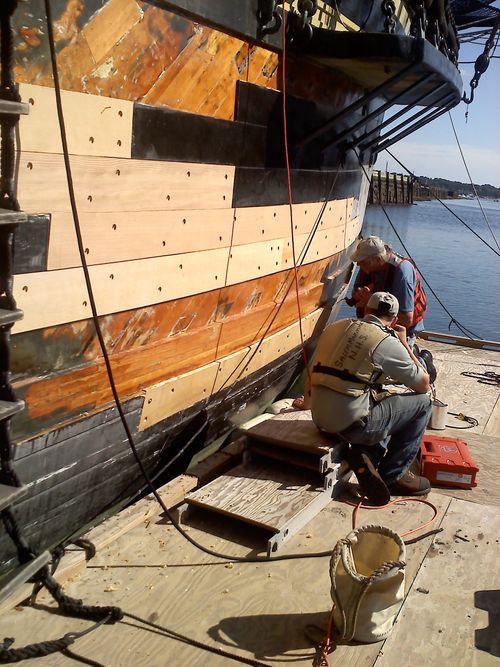 News Release Date:
May 10, 2013
Contact: Jonathan Parker, 978-210-4245
Outdoor Evening Program to Detail Recent Repairs to Friendship of Salem
SALEM , MA- Over a year's worth of sawing, painting and hammering aboard the Friendship of Salem will come to a temporary halt on the evening of Thursday, May 16th as part of Salem Maritime National Historic Site's year-long 75th Anniversary celebration.The captain and staff of the Friendship of Salem will present an illustrated outdoor program detailing the recent repairs and future maintenance plans for Friendship using photographs, blueprints and a "hands-on" tour of the major repair areas of the ship.
This free, 90-minute program will be held on Derby Wharf beginning at 7pm on May 16th.Attendees will see an illustrated slideshow and lecture by Friendship Captain Jeremy Bumagin, Mate John Pydynkowski and Mate John Newman detailing the wide variety of repair work conducted over the last few years.A question and answer session and a physical tour of the ship will follow the lecture.
"There has been considerable public interest in Friendship's various repairs over the last year," said Captain Jeremy Bumagin."We're looking forward to pulling back the curtain on the recent preservation and repair work that has taken place throughout the ship and explaining the process to the public.Participants will be able to view exposed areas of the ship that are typically hidden behind layers of planking and paint."
Attendees should bring their own blankets, chairs for outdoor seating on the grass of Derby Wharf.A limited number of chairs will be provided for attendees with special needs.Rain location:St. Joseph Hall, 2nd Floor, 160 Derby Street.More information available by calling (978) 740-1650.