Date:
May 19, 2007
Contact:
Salem Maritime Orientation Center, 978-740-1660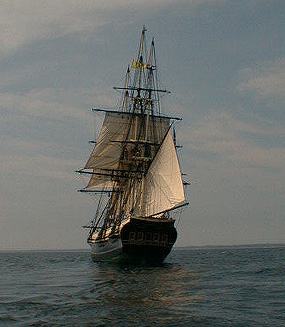 Salem's tall ship Friendship of Salem departed Derby Wharf at Salem Maritime National Historic Site on Monday, May 21, heading for D.N. Kelly & Son, Inc. Shipyard in Fairhaven, Mass. The 342-ton, three-masted wooden vessel, a replica of a ship built in Salem two centuries ago, will be hauled out of the water for hull inspection and routine maintenance.
Information about the ship's return will be posted at the Regional Visitor Center on New Liberty St., the Orientation Center on Derby St., and on Salem Maritime's website, www. nps.gov/sama
 "Friendship is scheduled to be gone for up to six weeks, but we hope it will be less," said Marine Operations Manager Colleen Bruce, head of Salem Maritime's Marine Division, which manages the vessel. "Friendship's hull will be cleaned, and the entire hull will get a new coat of paint," Bruce added. "This is a scheduled, routine haul-out which will include inspection by the Coast Guard." 
Friendship is crewed by 40 volunteers, mostly from Salem and the North Shore. Underway, they will train in all facets of ship sailing and operations, including transiting the Cape Cod Canal. "The crew hasn't done at-sea training since we went to Newburyport last August," said First Mate Jeremy Bumagin, one of Friendship's riggers and volunteer trainers. "The crew is eager for our sailing season to begin." The ship and its crew will have a busy summer, with visits in Massachusetts to Lynn and Gloucester, and a trip to Newport, R.I.
"Salem Maritime will offer a full range of historical and educational tours, if the ship is in port or not," said Superintendent Patricia Trap. Salem Maritime National Historic Site, a unit of the National Park Service, preserves the maritime history of this important early American seaport. Salem pioneered U.S. trade with the East Indies: China, India and Indonesia.
U.S. Park Rangers lead tours of Friendship; the Custom House where Nathaniel Hawthorne "found" the Scarlet Letter; the Derby House, home to one of America's first millionaires; and the Narbonne House, a tradesman's home built in 1675 that contained 150,000 artifacts. Visitors can also tour the Bonded Warehouse, Scale House and the West India Goods Store, which sells the kinds of items - tea, coffee, spice, porcelain - that Salem imported two centuries ago.