Staff from Eight National Parks Attend Educator Workshop at Salem Maritime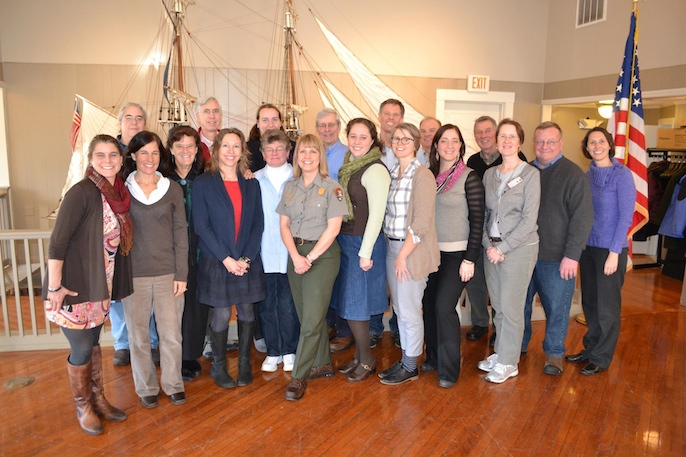 News Release Date:
December 18, 2014
Contact: Maryann Zujewski, 978-740-1662
Earlier this month, 9 National Park Service staff, 4 teachers and 6 community partners involved in the Park for Every Classroom (PEC) program, gathered at Salem Maritime National Historic Site for a three-day workshop. PEC is an NPS education program in the Northeast Region that trains teachers how to meet educational goals using the local historical and natural environment in partnership with one or more community partners. This educational approach, Place-Based Service Learning (PBSL), includes a clear focus on teaching and learning through civic engagement by involving youth in identifying, designing and implementing service projects of relevance. PBSL aligns with Common Core State Standards and fosters students' 21st century skills including critical thinking, analysis, team building and collaboration.
The partnership-based PEC planning team, including Cris Constantine, NERO, Delia Clark, Confluence Associates and Joan Haley, Shelburne Farms (VT), facilitated collaboration between and among PEC teams to enhance skills in design, delivery and follow-up for teacher training focused on PBSL. Participants in the face-to-face workshop benefit from peer exchange and the strengthening of their PEC partnership teams in order to better design and deliver teacher professional development and articulate the outcomes and impacts of PBSL.
Through the PEC program, NERO Division of Interpretation, Education and Partnerships and eight NER parks (Fort McHenry NM&HS, Gateway NRA, Marsh-Billings-Rockefeller NHP, Minute Man NHP, Saint Gaudens NHS, Salem Maritime NHS, Saugus Iron Works NHS, and Springfield Armory NHS) are taking a lead role in achieving Outcome 2: Educational Leadership as outlined in Achieving Relevance in Our Second Century. Participating PEC partners include Baltimore Public Schools, Brooklyn College, Billings Farm and Museum, Confluence Associates, Essex National Heritage Area, Maryland Historical Society, Salem State University, Shelburne Farms, and Veterans Education Project.
As the host site for the workshop and one of the original PEC pilot parks, Salem Maritime demonstrated the best practices of their Tilden award-winning PEC program highlighting:

·The true collaboration with their PEC community partner, Essex National Heritage Area, which allows for PBSL projects to take place outside park boundaries

·Their strong partnership with Salem State University which grants graduate credit to PEC teachers who implement and document their PBSL project

·An authentic PBSL project design with a focus on student ownership, multiple perspectives, and inclusion.
Salem Maritime and Essex Heritage will be working with 17 teachers and their students to develop and implement 8 PEC projects over the course of the 2014-2015 school year in the following Essex County communities: Amesbury, Beverly, Peabody, and Swampscott. One teacher participant noted about the PEC program, "I started teaching in 1981. This is the best class I have taken yet to get me excited about the school year—thank you. It is nice to do something for the community, not just your class."

For more information on PEC contact, Cris Constantine, Education Program Manager, NERO Division of Interpretation, Education and Partnerships at 215-597-5129.
Last updated: February 26, 2015