Salem's National Park Helps Local Teachers Chart the Right Course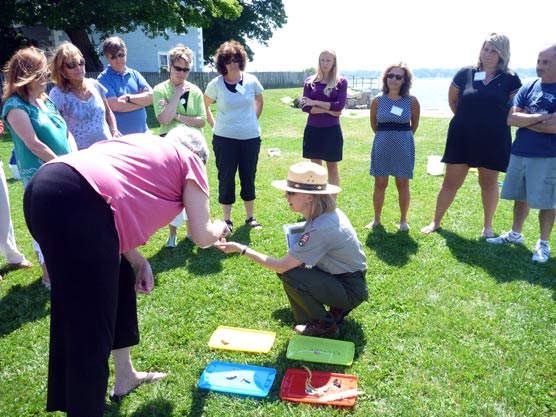 News Release Date:
August 10, 2012
Contact: Jonathan Parker, 978-740-1663
Last week twenty-two teachers from Salem and greater Essex County took part in "A Coast for Every Classroom," a week-long professional development workshop promoting the value of place-based education programs. Teachers traveled to Salem Maritime National Historic Site to learn how to create meaningful, place-based learning experiences for their students by using parks, museums and the outdoors as living classrooms. Recent research sponsored by the Conservation Study Institute shows that place-based learning increases students' academic achievement and understanding of the natural and cultural worlds.

"I realized how important this method of teaching was when I found myself excited to be outside of the classroom digging on the beach," said Teacher Molly Goodwin. "I was learning, exploring, and engaged in my surroundings. Isn't this what my kids would experience if I took them outside the classroom more often? I can't wait to see the excitement and curiosity in my students when I take them out to explore our community's lakes and river this year!"

Salem Maritime National Historic Site conducted the workshop in conjunction with Essex National Heritage Area and community-based organizations including the Peabody Essex Museum, Schooner Fame, Salem Sound Coastwatch and Salem State University's Cat Cove Marine Laboratory. Salem Maritime National Historic Site is one of eight national parks in the northeast piloting this new, place-based learning approach with local teachers.

"Our goal is to get teachers and students out of the classroom to use the local community and environment while utilizing hands-on, real world learning experiences," said park Education Specialist Maryann Zujewski. "We believe that students who are immersed in the study of place are more eager to learn and be involved in the stewardship of their local communities and national parks."

Ultimately these local teachers will help to advance the education mission of the National Park Service. Current NPS programs aim to reach 25% of the nation's K-12 school population annually and provide multiple ways for children to learn about national parks and what they reveal about the nation's natural and civic history.

A Coast for Every Classroom professional development workshop was made possible by a grant from the National Park Foundation through the generous support of ARAMARK through the Yawkey Foundation, The Fernandez Pave the Way Foundation and The HISTORY Channel.

If you would like more information about this program or are an educator interested in participating in "A Coast for Every Classroom," please contact Education Specialist, Maryann Zujewski at 978-740-1662.
 
Last updated: February 26, 2015