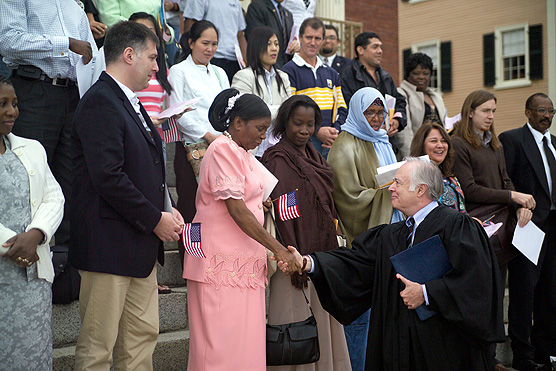 News Release Date:
September 18, 2007
Contact: Emily Murphy, 978-740-1691
SALEM, MA: On September 17, 2007, Salem Maritime National Historic Site celebrated Citizenship Day and the 220th anniversary of the signing of the Constitution of the United States with a naturalization ceremony. Thirty-six new citizens were sworn in on the steps of the U.S. Custom House in Salem by U.S. District Court Judge Douglas Woodlock on a beautiful early fall day.
The ceremony began with the registration of the applicants in St. Joseph Hall, which was built in 1909 by members of Salem's Polish immigrant community as a function hall and apartments for new immigrants. The swearing-in took place on the steps of the 1819 U.S. Custom House, the workplace of the famous author Nathaniel Hawthorne between 1846 and 1849. Today, St. Joseph Hall and the Custom House are two of the historic buildings that are administered by the National Park Service in Salem.
In addition to the information supplied by US Citizenship and Immigration Services, the new citizens also received the National Park Service's National Park Owner's Manual for New Citizens. "We are honored to be hosting a naturalization ceremony here at Salem Maritime for the second year in a row," says Superintendent Patricia Trap. "Salem has a rich immigrant history, stretching back nearly four hundred years, and we are proud to add to that history."
According to US Citizenship and Immigration Services, the ceremony at Salem Maritime National Historic Site was one of 125 naturalization ceremonies that will be held around the country during Constitution week. Over 23,000 men and women will become citizens of the United States during this week-long commemoration.
For more information on Salem Maritime National Historic Site, please visit our web site: www.nps.gov/sama