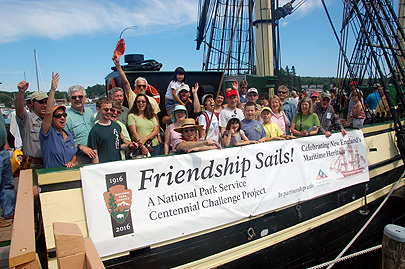 News Release Date:
July 15, 2008
Contact: Emily Murphy, 978-740-1691
Friendship of Salem, the park's replica tall ship, returned to Salem from Boothbay Harbor, Maine, on Friday, June 27th.
During her two-day visit to Boothbay Harbor, well over 2,500 people - more than the town's entire population - were welcomed on board Friendship by National Park Service rangers and volunteers. Sail setting demonstrations by the crew and hands-on cargo handling demonstrations were the highlight of the two-day event for both young and old.
This was the first in a series of such visits through "Friendship Centennial Sails!," a National Park Service Centennial Challenge project in partnership with the Essex National Heritage Area. The Centennial Sails voyages will bring Friendship - a replica of a cargo ship built in Salem in 1797 - to ports around New England. At each port visit, NPS volunteers and park rangers from Salem Maritime will engage visitors with demonstrations, interpretive talks, and a Junior Ranger program designed to teach young and old visitors about the history of New England's 18th and 19th century international trade.
One of those visiting the ship in Boothbay Harbor was J. Reed of New London, New Hampshire. "What a magnificent vessel she is!" he wrote in a letter of thanks. "I thoroughly enjoyed the tour, as did both my sons and my wife. My son Charlie (13) even got to help 'load' some cargo with a block and tackle! I wanted to write and say thank you for providing such a wonderful opportunity to us all. The boat was exquisite, and the crew was both knowledgeable and very outgoing. We arrived Wednesday afternoon and like so many had questions which were answered with pride and enthusiasm...even though they'd probably answered the same questions a thousand times in 48 hours. They are all to be commended."
Boothbay Harbor is a town with a strong maritime tradition, dating back to the fishing camps of the 17th century. Friendship joined seven other historic and replica vessels during Boothbay's annual Windjammer Days celebration. "What an honor to walk around this historic maritime community and hear people excited about their visit to Friendship," said Salem Maritime superintendent Patricia Trap. "The Centennial Challenge has given us a chance to bring the mission of the National Park Service to new audiences, and New England's maritime heritage to ports that have not seen a tall ship for over a hundred years."