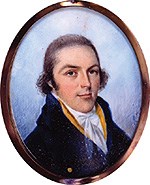 Israel Williams (1771-1831) was the first captain of Friendship, the flagship of the merchant partnership of Jerathmiel Peirce and Aaron Waite.
Born in Salem, Williams went to sea at a young age, and quickly became a respected captain. In 1797, the 26-year-old Williams took command of the newly built Friendship on her first voyage. The year before, he had married Lydia Waite, the daughter of Aaron Waite, and by 1805 he had made enough money to purchase a house on Chestnut Street, the most expensive and fashionable street in Salem.
But Capt. Israel Williams was not only a sea captain. He was also Captain of the Salem Independent Cadets, also known as the Second Corps of Cadets. He was one of the most popular commanders of the cadets in the early 19th century. According to one of the men who knew him, "Capt. Williams was a very courteous gentleman, and always maintained a high character in every relation of life."
Israel and Lydia Williams raised their five sons and one daughter in their house on Chestnut Street. Capt. Williams died in 1831.