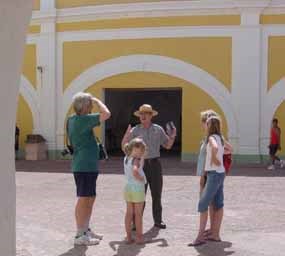 There are many ways to enjoy and experience San Juan National Historic Site. You are welcome to:
Explore the fortifications by taking a self guided tour. Wander through casemates and read the exhibits to learn more.
Watch our park film, "An Island's Legacy: The Fortifications of Old San Juan"
Relax and ponder as you take in the view of the city from the third level at Castillo San Cristobal, or as you walk to Castillo San Felipe del Morro in the grass area known as the esplanade, which offers space for picnicking and kite flying.
Go for a walk through the Paseo del Morro and enjoy the views across the bay, the Atlantic Ocean breeze and the massive stone walls.
Click here for special events at the park. Things to Know Before You Come
The staff at San Juan National Historic Site looks forward to your visit! Click on the brown links above for information to help make your visit safe and enjoyable. Please contact us for more information.
Puerto Rico is 100 miles long and 35 miles wide. Close to 3.4 million people live on the "Isla del Encanto", with more than 2 million in the greater San Juan metropolitan area alone. It is a vibrant, modern, bilingual, multicultural society, one that has been molded by Spanish, African, Native Taino, and American influences.
Both Spanish and English are the official languages, the local currency is the U.S. dollar, and no visas or passports are required to enter Puerto Rico from the United States. Mail is sent through the US Postal Service at the same rates as on the mainland.
Puerto Rico is in the Atlantic Time Zone and does not observe Daylight Savings Time. The island uses standard U.S. electric outlets. European appliances require an adapter.
There are no customs duties on articles bought in Puerto Rico and taken to the U.S. mainland. Major credit cards are accepted at most businesses, and ATM's connected to major US and international networks are easy to find.
Business hours are similar to those on the mainland, 6:00 AM to 6:00 PM weekdays. Most stores are open Saturdays, and all of the larger towns have shopping malls that are open evenings and Sundays.