Be A Junior Ranger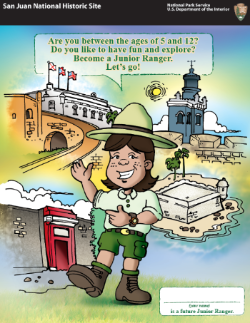 Free Junior Ranger Booklets are available at any park entrance station, or you can download one below. They are available in English and in Spanish.

Filled with fun activities, these books educate kids and parents alike about the wonders of the San Juan National Historic Site. By completing three or more exercises, participants earn a Junior Ranger badge and signed certificate. When you are finished with the booklet, take it back to any of these entrance stations to have a Ranger check your answers, and to receive your badge!

English link

Spanish link

If you printed out the digital copy or forgot to submit your booklet when you visited, please mail the completed booklet back to us at:
San Juan National Historic Site
Attn: Division of Interpretation, Education, and Fees
501 Calle Norzagaray
San Juan, PR 00901
Additionally, as we are a UNESCO World Heritage Site, you can also be a World Heritage Junior Ranger! However, we currently do not have the World Heritage Junior Ranger booklets available at the facilities.


Last updated: February 3, 2020