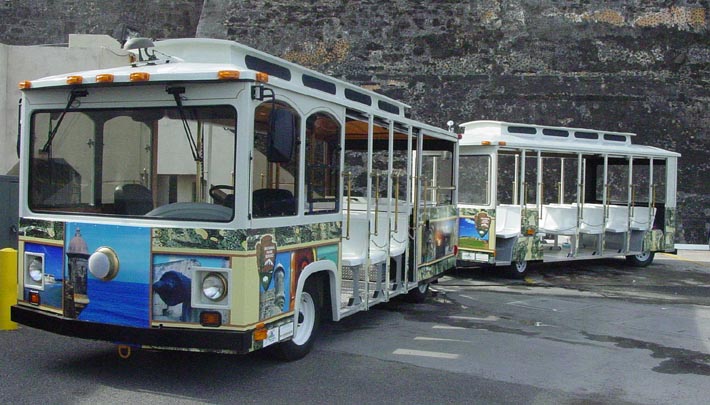 News Release Date:
October 11, 2007
San Juan National Historic Site Superintendent Walter J. Chavez announced today the beginning of a new tram service that will run between the two forts, Castillo San Cristóbal and Castillo San Felipe de Morro. The trams were purchased through a grant from the U.S. Department of Transportation and will be operated through a partnership with the Municipality of San Juan and Corporación para el Desarrollo Empresarial y Cultural de la Isleta de San Juan (CODEVISA) this new tram service coincides with the completion of the rehabilitation of the El Morro road.  The road has been completely redone in anticipation of this new tram system. 
"I am extremely pleased to be joining in this partnership with the Municipality of San Juan and CODEVISA to offer this new service for our visitors. Along with the new road, it will provide our visitors with a safe, enjoyable alternative to the quarter of mile walk to the front gate of El Morro" in addition to the trams, "we are all extremely proud of the excellent work performed by our staff to rehab the El Morro road" "the hard and creative work by our staff, will be around for years and years as an example of their talents", said Superintendent Chavez.
The service will be operated by CODEVISA who currently runs a trolley system throughout Old San Juan and this new tram will become an extension of that service with the added stop at the bridge at El Morro.  The service is free.
A ribbon cutting ceremony will be held at El Morro on October 12th at 9:30 a.m. to kick off the service. Speakers include the Honorable Luis G. Fortuño, Resident Commissioner and the Honorable Jorge Santíni, Mayor of San Juan.
For more information call 787-729-6777 during working hours.
San Juan National Historic Site is comprised of Castillo San Felipe del Morro, Castillo San Cristóbal, Fort San Juan de La Cruz (El Cañuelo), the San Juan Gate, and City Wall.  The site is open everyday, except Thanksgiving, Christmas and New Years Day. 
Admission to San Juan NHS is $3.00 for adults (16 and over), children 15 and under are free.
# # # #