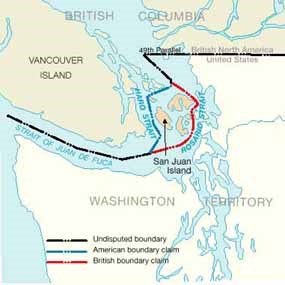 San Juan Island National Historical Park celebrates how individuals and nations can resolve disputes without resorting to violence. For it was here in the mid-1800s that Great Britain and the United States settled ownership of the island through peaceful arbitration. Watch former park historian, Mike Vouri, give a brief overview of the Pig War.
The dispute is perhaps the best-known period in island history. But the park also encompasses a rich and diverse environment that cannot be separated from the island's 3,000-year human history. Long before the arrival of Europeans, the island sheltered a thriving culture attracted by its temperate climate, rich soil, abundant timber and marine resources. These same attributes lured Spain, Great Britain and the United States. Each explored, charted and named the islands while staking overlapping claims to the Oregon County-- the present states of Washington Oregon, Idaho, portions of Wyoming and Montana and the province of British Columbia.
Spain had abandoned its claims by the time an Anglo-American agreement in 1818 provided for joint occupation of the region. Although lucrative trade agreements and capital investments existed between the two nations, primarily on the Eastern seaboard, tensions mounted among those living in the Oregon Country. Americans considered the British presence an affront to their "manifest destiny." The British believed they had a legal right to lands guaranteed by earlier treaties, explorations and commercial activities of the Hudson's Bay Company.
Nevertheless, in June 1846 the Treaty of Oregon was signed in London, setting the boundary on the 49th parallel, from the Rocky Mountains "to the middle of the channel which separates the continent from Vancouver's Island" then south through the channel to the Strait of Juan de Fuca and west to the Pacific Ocean.