Date:
July 6, 2012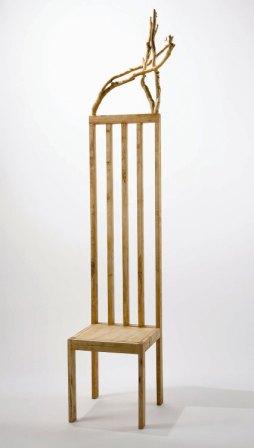 Sagamore Hill National Historic Site is proud to announce inpartnership with the Oyster Bay Historical Society that the Koenig CenterGallery will be hosting the exhibit WitnessTrees as its summer exhibition. Witness Trees exhibits the artworks ofnineteen Rhode Island School of Design (RISD) students using wood reclaimedfrom trees on four National Historic Sites, including Sagamore Hill. The OysterBay Historical Society will open the exhibition with a reception on Sunday July15, from 2:00 to 4:00 pm at the Koenig Center. The exhibition will remain onview through August 19.
The Witness Trees Project was originally developed as apartnership between Dale Broholm and David Cavicchi of RISD and Louis Hutchins,a National Park Service historian, from the concept of historic trees onNational Park sites as "witnesses" to American History. Such trees, at the endof their lives, become the substance of works of art that reflect on andinterpret the history of the sites on which they grew. In addition to SagamoreHill, the contributing sites include the Hampton plantation site in Maryland, theGeorge Washington Birthplace in Virginia, and the Frederick Law Olmsted site inMassachusetts.
Witness Trees,curated by Christine Temin, appeared at the Brattleboro Museum and Art Centerthis spring before traveling to Oyster Bay for the summer. For furtherinformation on the exhibition and its opening reception, please call the OysterBay Historical Society at 516-922-5032 or visit the web site at www.oysterbayhistorical.org.