Visitor Center and Museum Store Renovations Complete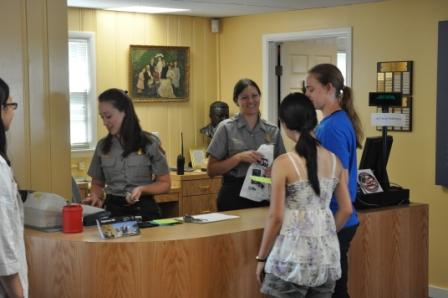 News Release Date:
August 9, 2011
Sagamore Hill National Historic Site in partnership with its cooperating association, Eastern National, Inc., which runs the site's bookstore and museum shop, announces the completion of a $13,000.00 interior renovation to the site's Visitor Center and bookstore which includes new furniture, lighting enhancements, and other improvements to the building.
Eastern National, which manages over 150 book stores/museum shops in National Parks mostly east of the Mississippi, provided Sagamore Hill NHS with a $10,000.00 agency improvement grant to carry out the project.The project included reorganizing the visitor center's sales area and adding several new shelving units as well as a new sales and park ranger information desk which meets Americans with Disabilities Act (ADA) standards.Lighting was also installed in several of the new and existing shelving units for better product display and customer service.
The new furniture was designed, built and installed by Skyline Designs, Inc. of New Hampshire. Skyline provided the original visitor center furniture in 1995 and matched their high quality furniture in style and color on this new project.
According to Superintendent Tom Ross, "We are so grateful for the grant from Eastern National and fortunate to have a partner who understands the importance of investing in our visitor center to provide the best experience possible for the visiting public."
Sagamore Hill NHS provided additional funding for matching enhancements which included new exterior and interior signage, new window treatments, and a new paint job for the building's interior.The project's main goal was to improve our visitor's overall experience with an updated look, better accessibility, and an enhanced visitor shopping experience. We invite the public to see the visitor center improvements for themselves from 9:00AM to 5:00PM daily. The bookstore and museum shop is also a great place to buy that unique gift for children or adults.
Last updated: February 26, 2015