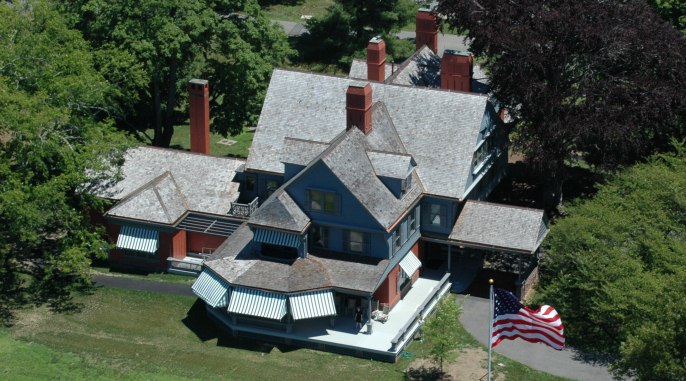 News Release Date:
July 7, 2015
Contact: Martin Christiansen, (516) 802-7539
Oyster Bay, N.Y. – On Sunday, July 12, 2015, Sagamore Hill National Historic Site is excited to welcome the public back into the home of Theodore Roosevelt, the 26th President of the United States. Following an extensive rehabilitation project on the structure as well as restorative attention to objects in the house that took more than three years and cost nearly $10 million, Sagamore Hill will celebrate the long awaited reopening with a free family festival from 9:00 a.m. to 4:00 p.m. 
The event will begin with a brief 9:00 a.m. ceremony on the porch at the front door of the Theodore Roosevelt House.Accompanied by an acapella performance of "Sagamore Hill" by the Roosevelt Singers, Theodore Roosevelt, as portrayed by Jim Foote, will return home. Following TR's return home, visitors will be able to walk through the first floor of the newly reopened home which was Roosevelt's home from 1885 until his death in 1919, serving as the "Summer White House" during his administration from 1901 to 1909. The first floor tour of the home is free and available on queue from 9:00 a.m. until 4:00 p.m.. 
The official reopening ceremony will take place on a stage at the rear of the Theodore Roosevelt House at 2:00 p.m. with engaging addresses from Roosevelt family members, Congressman Steve Israel, Harvard professor Mike Canfield, and others. The reopening addresses will be interspersed with period music and Sousa marches performed by the Sagamore Hill Band under the direction of Steve Walker. Bring a blanket to spread beneath the shady canopy of trees while enjoying the ceremony. Ceremonial color guard will be provided by the Theodore Roosevelt Unit of the United States Naval Sea Cadet Corps, under the leadership of Lieutenant Commander Forrest Woodward. 
There will be an equestrian reenactment of the First United States Volunteer Cavalry by "The Rough Riders" at 1:00 p.m.Additionally, there will be a call for cavalry recruits at 11:00 a.m. and 2:30 p.m.when young volunteers will receive their enlistment papers.Pony rides will be available throughout the day along with a petting farm in the historic pastures where the Roosevelt family kept their own livestock. Author Kathleen Bart will read from her book Tale of Two Teddies at 10:00 a.m. Childrens crafts will be available throughout the day, as will traditional games like potato sack races, egg & spoon races, and hoop games. 
Also throughout the day, visitors can enjoy historic carriages on display by Shadbelly Farm and antique automobiles displayed by the Long Island Sound Region, Classic Car Club of America. There will be a partner tent to help visitors learn about other great places to explore on Long Island, including, Fire Island National Seashore, Theodore Roosevelt Sanctuary and Audubon Society, and others. The Waterfront Center will host a touch tank of local sea life and there will also be a naturalist program on the shore of Cold Spring Harbor.
An interactive photo booth will be provided by the Baltimore Photo Social where you can share with your friends that you really did #FindYourPark at Sagamore Hill. All the while you can enjoy the "Happiest Music on Earth" produced by the Long Island Band Organ, based on a 1919 Wurlitzer 105 Military Band Organ under the direction of Michael Falco. There will be vendors on site to offer American fare, a lemonade stand, and ice cream from Gooseberry Grove. 
Due to the high visitation anticipated on July 12 and the limited parking available on site, Sagamore Hill NHS will be using a satellite parking system on the day of the event. Remote parking will be at the East Woods School in Oyster Bay Cove, as well as at Oyster Bay High School. Regular free shuttles will provide service throughout the day starting at 8:30 a.m. Shuttles will also run from the hamlet of Oyster Bay with a pick-up location at the Long Island Railroad Station. There will be no drop-off locations available at Sagamore Hill for private vehicles, and no general entry into the site's parking lot aside from handicap access. While Sagamore Hill retains its dog-friendly policy, for the safety of all of the event visitors, pets will not be permitted on shuttles or on the grounds the day of the event. 
Access to shuttles and house tours are on a first-come, first-served basis. There will be no advanced reservations. Guides will be positioned in the house to provide an informative experience. Photography and video recording will not be allowed inside the house. Bags, packs, and strollers will not be permitted in the Theodore Roosevelt House during the tours—please plan accordingly. 
Theodore Roosevelt was instrumental to modern conservation and in establishing our federal public lands. The reopening of his revitalized home at Sagamore Hill National Historic Site will be an event well-suited to lead the National Park Service into its second century of stewardship in 2016. Join us for this exciting milestone in the continued protection and preservation of the Theodore Roosevelt House and help celebrate its reopening to the public.