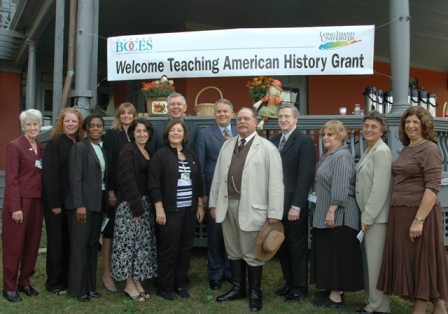 News Release Date:
October 10, 2007
Oyster Bay, NY. Oct. 4. Sagamore Hill was the host site for partners Long Island University (LIU) C. W. Post Campus and Nassau County Board of Cooperative Educational Services (BOCES) for the announcement of a three-year one million dollar grant from the U. S. Department of Education for Teaching American History. Representatives from LIU and BOCES and teachers from the thirteen participating Nassau County School Districts assembled at Sagamore Hill for a kick off press event and a day of discovery at the home Theodore Roosevelt, 26th US President.
Grant Coordinators Patricia Koehler, Supervisor of Curriculum Instruction and Technology, Nassau BOCES, and Dr. Iftikhar Ahmad, Associate Professor of Education, LIU, were joined by Fred Podolski Executive Director, Curriculum, Instruction and Technology, BOCES, Dr. James D. Mapes, District Superintendent, BOCES and Dr. Jeffrey Kane, Vice President for Academic Affairs of LIU C. W. Post Campus for the announcement of the one million dollar grant from the U. S. Department of Education. It is the first such grant awarded in Nassau County. Thirteen school districts and some sixty teachers will participate in the three year program of Teaching American History in Middle and High Schools.
Chief of Interpretation, Charles Markis was master of ceremonies and host for the event and took the opportunity to explain the educational offerings available for class field trips at Sagamore Hill to the assembled educators. The teachers received a tour of Sagamore Hill and participated in a pilot version of a new middle school history hunt developed for this event in the Theodore Roosevelt Museum in Old Orchard.
Following the tour of Sagamore Hill, every one had a photo op with James Foote portraying Theodore Roosevelt in front of Sagamore Hill.
The first year of the grant will focus on bringing visiting historians to have in-service training for the participant teachers during the year. A four day history institute will occur during the summer. While the plans are still being worked out, the second year will include Sagamore Hill to help connect students with the "real thing." Sagamore Hill will assist in developing teaching materials geared to specific grade and age groups.
Sagamore Hill is pleased to partner with Long Island University and Nassau Board of Cooperative Educational Services in Teaching American History. We look forward to hosting many new class field trips as a result of this program.