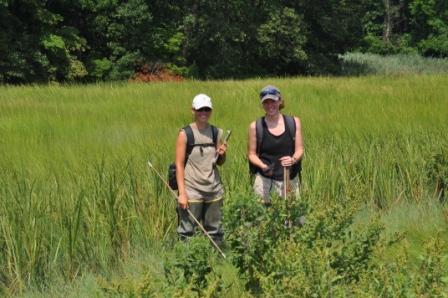 News Release Date:
August 25, 2011
On August 8th, a biological research group from the Northeast Coastal & Barrier Network, based out of the University of Rhode Island, came to Sagamore Hill National Historic Site to continue a regional salt marsh monitoring project.
The group, which came to Sagamore Hill in 2009 to collect their first data set, is composed of National Park Service employees specializing in biology. The goal of the project is to monitor changes in the fish and vegetation community over time. This research is being conducted at several other coastal National Park sites in addition to Sagamore Hill National Historic Site, including Fire Island National Seashore, Assateague Island National Seashore, Colonial National Historical Park and Sandy Hook, a unit of Gateway National Recreation Area.
In 2009 the biologists used GPS and GIS technology to separate the Salt Marsh at Sagamore Hill into different quadrants. In each quadrant, the group identifies which species of vegetation are present and estimates the percent cover of each species. They also identify which nekton species are present and record their measurements. Nektons, typically larger than plankton, are actively swimming aquatic organisms.
Research is conducted bi-annually, once at the beginning of the summer and once at the end of the summer. Each year the group produces an annual report of their findings. They soon hope to produce a report that will draw conclusions from comparing data from different years. For more information about the project, visit: https://science.nature.nps.gov/im/units/ncbn/vs/saltnekton.aspx