Sagamore Hill Receives National Accessibility Achievement Award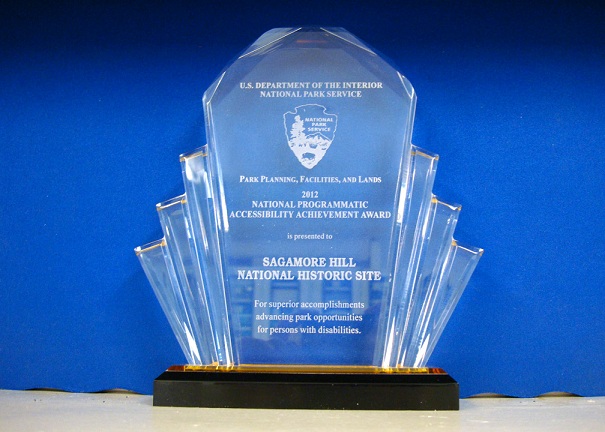 News Release Date:
July 14, 2013
Sagamore Hill National Historic Site has been honored with the National Park Service's National Programmatic Accessibility Achievement Award for 2012.This is an annual award recognizing a park and its staff for efforts that have been instrumental in the development, implementation, or improvement of programs and services exemplifying the concept of inclusion and universal accessibility.National Park Service Director Jonathan Jarvis acknowledged the park's achievement with certificates and an engraved crystal award.
Sagamore Hill received the award for developing a narrated video tour of the Theodore Roosevelt home and an accompanying photograph book to enhance it.The video, which is captioned and audio described, follows the normal interpretive tour of the home and offers an in-depth look at the collections within each room, including original family furniture, artwork, animal trophies, and other items gathered Theodore Roosevelt's lifetime of public service.The 60-page companion book offers a detailed view into each of the home's 23 rooms, including detailed floor plans which highlight the location of each room in the house.The project was planned with universal accessibility in mind, which is of particular significance since the Roosevelt home is now closed for renovations.The video and photo book have temporarily become the primary interpretive medium for all visitors, not just those with physical limitations. The award winning video and book are available for viewing at https://www.nps.gov/sahi/planyourvisit/accessibility.htm .
This accessible interpretive media is one piece of a multi-pronged approach the park has undertaken over the past few years to improve the site's universal accessibility. Other work across the site includes the installation of handrails and automatic door openers; installation of a universally accessible sales and information desk at the visitor center and a new accessible walkway and ramp to the Roosevelt home which is part of the rehabilitation work that is currently underway.
Employees who developed the media include Chief of Cultural Resources Amy Verone, former Museum Technician Mark Koziol, Chief of Interpretation and Visitor Services and Natural Resources Sherry Justus, Park Ranger Josh Reyes, Chief of Administration Julie Abbate and Superintendent Thomas Ross.
Last updated: December 5, 2016