Sagamore Hill NHS and Town of Oyster Bay collaborate on new site signage
Date:
August 16, 2011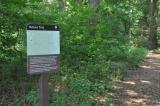 Sagamore Hill National Historic Site in partnership with the Town of Oyster Bay has collaborated in a federal/local government partnership to design, fabricate and install 50 new signs at Sagamore Hill NHS.The new signs support the park's 2008 General Management Plan for improving circulation on visitor pathways around the site as well as provide regulatory information to the visiting public.
The signs provide a unified system which follows the National Park Service's (NPS) graphical identity for design and font style.The new signs provide clear direction for the 55,000 annual visitors who access site attractions such as the Roosevelt Home; Theodore Roosevelt Museum at Old Orchard; Nature Trail; Pet Cemetery; and the historic tennis court site.A series of new signs located along the nature trail and beach area provide regulatory as well as interpretive information about the plants and animals that live in this part of the park.Other signs remind visitors that dogs must always be kept on a 6' leash and that swimming is not allowed at the park's beach which today is a wildlife refuge.
According to Superintendent Tom Ross, "We are so grateful to the Town of Oyster Bay and Supervisor Venditto for supporting the design and fabrication of these signs for Sagamore Hill NHS. This project is a key element in our site's new master plan and the town was able to make a significant contribution through its sign department resources to accomplish the work.This project is a prime example of how federal and local government should work to capitalize on each other's resources in moving good projects forward. "
The Town of Oyster Bay continues a long tradition of partnering with the National Park Service in providing site signage.The last site sign campaign in partnership with the town was approximately 20 years ago and those signs have either come to the end of their useful life or have been replaced.
"As the family home of Theodore Roosevelt, and one of only two National Park units on Long Island and the only one in the Town of Oyster Bay, it was a no brainer to support the efforts of the National Park Service on this project" said Town Supervisor John Venditto "We have had a long and strong partnership with Sagamore Hill and this project presented a unique opportunity to utilize town resources to assist this key site and attraction which serves our town residents and visitors from afar so well."
Sagamore Hill NHS staff have installed the new signage and matched these visitor pathway signs with a sign contract which included a new sign for the Visitor Center as well as a new main exit sign which thanks visitors for coming to the site and provides the Theodore Roosevelt inspirational quote: "Keep your eyes on the stars, but remember to keep your feet on the ground" with an engraved Theodore Roosevelt signature.We invite the public to visit the site and see the sign improvements.The site grounds are open daily sunrise to sunset.